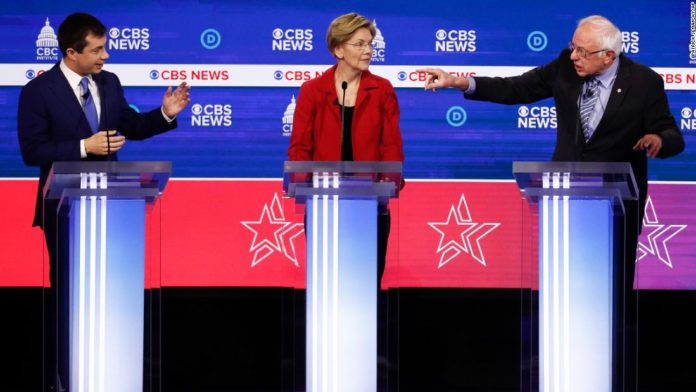 It was an incredibly contentious affair, with candidates shouting at (and over) one another as they scrambled to draw contrasts with each other in advance of the critical
South Carolina primary
on Saturday.
Below, the best and worst from the night that was.
* Pete Buttigieg
: The former South Bend, Indiana, mayor was at his absolute best in this debate. He found several occasions to make direct contrasts with Bernie Sanders — most notably on the dangers for Democrats of nominating a democratic socialist and the differences in their health care plans — which is a win in and of itself.
Buttigieg
also flashed a sense of humor when plugging his website to encourage donations, which was a welcome moment of levity in a debate defined by people shouting at one another at very close range. If voters were looking for a Sanders alternative who looked like he could be commander in chief in this debate, Buttigieg made a
very
good case for himself.
LOSERS
* Moderators: The five-person CBS team swung between refusing to get involved as the candidates talked over one another for 15-20 seconds at a time and stepping in at unnecessary moments to break up actual substantive disagreements between the candidates. The questions were also not great — focused too much on narrow policy matters (charter schools) and not enough on BIG issues of the day like, say, the coronavirus. Look, I'm under no illusion that moderating a debate like this one is easy. It's not. But the CBS moderators often didn't seem up to the task.
* Live audience: The clapping and booing of candidates was totally out of control. And unfortunately it affected the candidates (see my Sanders write-up above) and will likely have some reverberations on how people watching on TV thought the field performed. I am against live-audience debates in general, since the debates are quite clearly (and should be) produced with the live TV (and streaming) audience in mind. But if you are going to let the audience be there, then enforce a policy of polite clapping and no booing. Please.


Source : Nbcnewyork