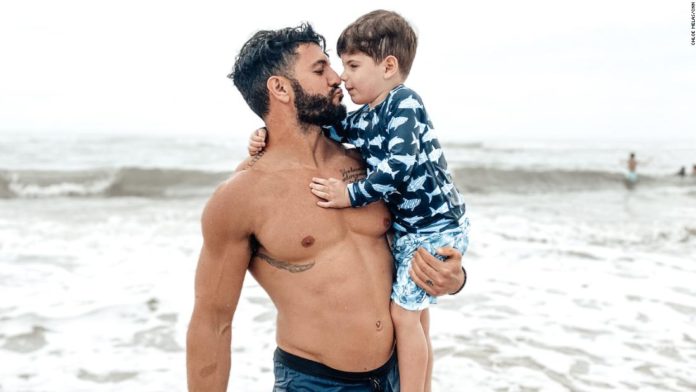 It's something my husband, Brian Mazza, and I had to face while trying to start our family. After six months of trying to get pregnant, my husband learned he had issues with his sperm that would require us to undergo in vitro fertilization (IVF) to have children.
This is one of the topics I explored when Sanjay Gupta handed me the reins to his "Chasing Life" podcast for an episode titled "Let's Talk About Making Babies (or Deciding Not To).
"I was embarrassed. I was disappointed in myself," my husband said during a discussion we recorded for the podcast. "I was shocked that something that we wanted to do, we couldn't do. Usually through our own hard work and grit and determination, we accomplish our goals. And this is something that I felt helpless about. It was out of my control, really."
Experts say these feelings are common — as is the stigma around discussing them.
"The most profound example is a man who is sterile with no sperm in his semen," Turek said. "I did a blog on this (topic) and I asked my patients, 'What was the first thing that crossed your mind when you learned you were sterile?' And my favorite response was, 'I had a biological identity crisis.' It hits them like nothing else could."
Though men and women carry an equal burden, the focus is still so much more on women when it comes to fertility treatments.
"It's unfortunate because I think that men are ashamed or uncomfortable in talking about either their sexual performance or their sexuality in general, even though we have hyper-sexualized commercial aspects in this country where quote unquote, sex sells," Levine said.
"Women feel like there are more resources out there for them to learn about the treatments and the path to parenthood," he said. "And because we assign this machismo or societal pressure to fatherhood and parenting a child, that it's really hard for a guy to deal with the diagnosis of infertility."
What is male factor infertility?
But this list isn't exhaustive. It's something my husband and I found ourselves struggling to understand because Brian, a longtime athlete who has been on the cover of Men's Health Magazine twice, considered himself to be the epitome of health. He doesn't drink alcohol, do drugs or have known exposure to any of the CDC-indicated risk factors for low sperm count.
"It's frustrating because you want to feel like you have some control over it, modifiable factors," Dr Reichman told CNN. "That if I only do a better job then things will improve but unfortunately there are a lot of cases where it's not so cut and dry."
So you're infertile, now what?
When it comes to infertility, one might think of the cost associated with treatments.
"Fixing the male problem is always more cost-effective than going to ART [Assisted Reproductive Technology]," Turek said.
"The first move in my practice is lifestyle change. Sometimes if you're working out too much that can be the problem. Sleep, rest, stress reduction, perhaps more exercise, acupuncture and yoga — that has more impact than you think," Dr. Turek said.
"Then you go to medical therapy, which is based generally on hormones. Clomid is one of those … other medical therapy can be a pre-natal supplement for men. If medical therapy fails, then you go to surgical therapy. If nothing else is available, I say go to ART."
But I can't think of one well-known guy at this point who has come out and talked about his sperm issues.
"For the longest time it's been more rare to see a male emote, and it's been more culturally and societally acceptable to have women expressing their feelings," Dr. Reichman said. "Ten years ago, I don't think women were talking about their fertility like they are now. I think it's more of a hurdle for men because it does go against that stereotype macho perception of men that we need to undo.
"We need prominent individuals to normalize the experience of men," he added. "Fertility has always been a taboo subject historically, and I think for men the ability to reproduce is so tied up in their quote-unquote manhood and so it's a real threat to the male ego and it shouldn't be."
My husband is speaking out
"We still have a long way to go, both in terms of men feeling open and accepted to share this information, men seeking out emotional support services, and society in general recognizing that infertility affects men," she said.
"Most people are surprised to hear the prevalence of male factor infertility."
Founded by Khaled Kteily, Legacy sells the first at-home semen analysis kit that allows men to learn about their sperm by dropping it in the mail and even freezing it for the future without having to walk into a clinic. Celebrities like Justin Bieber, DJ Khaled, The Weeknd and Orlando Bloom are all investors in the company.
He's raised over $80,000 to cover treatment for three people at the Ronald O. Perelman and Claudia Cohen Center for Reproductive Medicine of Weill Cornell Medicine, where we went through IVF to have our two children.
"I think vulnerability shows a certain level of masculinity, and I think more of us need to tap into that," he said. "We all go through things in our lives, but male infertility does not make you any less of a man."


Source : Nbcnewyork