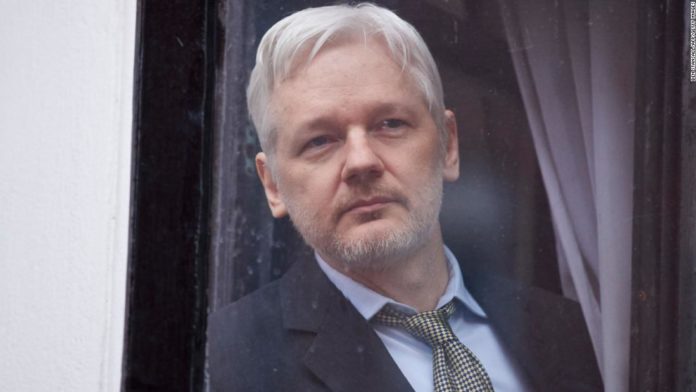 Speaking at a press conference in the British capital, Kristinn Hrafnsson said surveillance of WikiLeaks' founder Assange included video and audio recordings from various recorders inside the embassy, including footage of a medical examination of Assange as well as legal meetings and legal documents.
Wednesday's allegations ramped up the war of words between Ecuadorian authorities and WikiLeaks, which claims there has been an escalating effort to push Assange out of the embassy, with the aim of getting him extradited to the United States.
Fidel Narvaez, Ecuador's former consul to London, said he did not believe that Ecuador was protecting Assange any longer, describing him as a political refugee.
Hrafnsson said the "massive trove" of information came to light as part of an extortion case in Spain. He said individuals had allegedly demanded 3 million euros from WikiLeaks, in a case currently being handled by local Spanish police.
Hrafnsson said he traveled to Spain 10 days ago and saw hundreds of documents, apparently collected by someone from inside the Ecuadorian embassy. CNN has reached out to Spain's Policia Nacional, who said they had no comment.
When asked to respond to WikiLeaks' allegations, a spokesperson for Ecuador's Foreign Office Communication Department told CNN: "This is under consideration and we will keep the press informed."
Australian whistleblower Assange has been holed up at the embassy, yards from Harrods department store in Knightsbridge, since he was granted asylum in 2012 as part of an attempt to avoid extradition to Sweden, where he was facing allegations of sexual assault.
The case has since been dropped, but Assange fears extradition to the US due to his work with WikiLeaks, and so has remained in place. He has repeatedly denied any wrongdoing.
New rules
Since Ecuadorian President
Lenin Moreno
took office in 2017, Assange has repeatedly claimed that Ecuador has been making his life more difficult in an attempt to force him to vacate the premises.
Ecuador has denied Assange's allegations, with Attorney General Inigo Salvador telling reporters in October that his country was "not looking to revoke" Assange's asylum.
Ecuador said the UK had given such a guarantee, but Moreno said he needed clarification on the British position.
Last year, Assange was told he had to abide by new rules imposed by the Ecuadorian embassy, which included paying for his food, medical care and laundry, taking care of his cat, keeping the parts of the embassy he uses clean, and obtaining prior authorization for visitors.
In a statement last Friday
, the Ecuadorian Foreign Ministry called rumors about the termination of Assange's asylum "fake news," adding that the claim of a possible agreement with the UK "misrepresents reality."
"The Ecuadorian government notices that these falsehoods are also an attempt to tarnish the dignity of the country," the ministry said in the statement.
"When they issue falsehoods, the asylee and his associates express once more their ingratitude and disrespect towards Ecuador, instead of showing gratitude towards the country that has welcomed him for nearly seven years, incurred significant expenditures to pay for his stay at the embassy, has borne their rudeness and to whom he, paradoxically, has filed a lawsuit against for adopting a cohabitation protocol in order to prevent his bad behavior from taking place again."


Source : Nbcnewyork