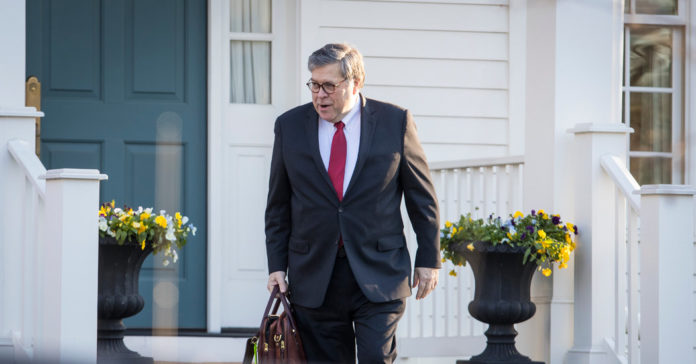 (Want to get this briefing by email? Here's the sign-up.)
Good morning,

We're continuing to cover the fallout from the special counsel's report, a congestion pricing plan for New York City drivers and a new effort by the British Parliament to figure out a Brexit plan.
President Trump turns on his critics
Mr. Trump and his Republican allies vowed on Monday to pursue and even punish those responsible for the special counsel's Russia investigation now that it has ended without implicating him or his campaign.
The president denounced "treasonous" people who should be investigated themselves, and the chairman of the Senate Judiciary Committee suggested a separate inquiry into potential anti-Trump bias at the F.B.I.
The attorney general: William Barr's decision to declare that Mr. Trump had not committed a crime — despite the fact that the special counsel, Robert Mueller, stopped short of exonerating the president — has renewed a debate about the role of American law enforcement in politically charged investigations.
The special counsel: Now that his report has been filed, Mr. Mueller is poised to return to civilian life as a figure of mystery and fascination.
The news media: Journalists faced bipartisan criticism after the special counsel found that the Trump campaign had not conspired with Russia. Dean Baquet, the executive editor of The Times, said. "We wrote a lot about Russia, and I have no regrets. It's not our job to determine whether or not there was illegality."
The Daily: In today's episode, a reporter discusses Mr. Barr's determination that Mr. Trump had not illegally obstructed justice.
New York is set to charge city drivers
A plan to install electronic tolls for vehicles entering the busiest stretches of Manhattan would make the city the first in the U.S. to use congestion pricing.
State lawmakers agreed on Monday that the plan was necessary to help pay for much-needed repairs to the subway system. Congestion pricing has helped unclog streets in places like London, Singapore and Stockholm, although the plans have been criticized as an unfair tax.
What's next: Many specifics, including the exact price for entering Manhattan's main business district, are still being considered. The leader of the State Assembly seemed confident on Monday that a deal could be reached before a budget deadline on April 1.
---
Art world shuns donors with opioid ties
For decades, the Sackler family has generously supported museums around the world, as well as medical and educational institutions including Columbia and Oxford.
But some beneficiaries are reconsidering their relationship with the family because of its ties to Purdue Pharma, the maker of the frequently abused painkiller OxyContin. More than 200,000 people in the U.S. have died from overdoses involving OxyContin and other prescription opioids in the past two decades.
Background: The scrutiny of the Sacklers is part of a broader reckoning in the museum world about who sits on boards and bankrolls programs.
If you have 12 minutes, this is worth it
A civil rights group confronts itself
The Southern Poverty Law Center is one of the nation's wealthiest and best-known legal advocacy groups. Last year, it identified over 1,000 hate groups across the U.S.
The center is now in an uproar. Its founder, Morris Dees, above, has been fired, and other top executives have quit as staff members raise accusations of sexual harassment and racial discrimination.
Here's what else is happening
Parliament takes control: British lawmakers on Monday passed an amendment giving themselves the power to vote on alternatives to Prime Minister Theresa May's plan for exiting the European Union. Britain will remain in the bloc until at least April 12, although what happens after that is currently anyone's guess.
Boeing tests: During recent simulations of a doomed Indonesian flight involving a 737 Max plane, pilots discovered that they had less than 40 seconds to override an automated system.
Trump-Netanyahu meeting: President Trump formally recognized Israel's authority over the long-disputed Golan Heights as Prime Minister Benjamin Netanyahu visited the White House on Monday.
Vote to override veto: The House will try today to override President Trump's veto of its resolution to block his national emergency declaration. On Monday, Patrick Shanahan, the acting defense secretary, authorized the transfer of up to $1 billion from military personnel funding toward the construction of a wall on the border with Mexico.
Michael Avenatti arrest: Federal prosecutors have accused the lawyer best known for representing the pornographic film star Stormy Daniels of attempting to extort millions of dollars from Nike.
Apple's new offerings: The iPhone maker has announced monthly subscription services for TV programming, video games and news, as well as a credit card.
Snapshot: Above, a "super bloom" of poppies near Hemet, Calif. The flowers in the hills near Los Angeles have blossomed after heavy winter rains, attracting droves of smartphone-equipped fans.
Late-night comedy: Stephen Colbert offered a concession: "Fair is fair. Barr says Mueller says there was no collusion between Trump and Russia," he said. "So we have to cross collusion off the list of reasons Trump is unfit to be president."
What we're listening to: This episode of Radiolab, exploring the greatest mysteries in listeners' lives. There's a moment when a reporter asks if there is any correlation between a common subway noise and "West Side Story," writes Remy Tumin, a member of the briefings team. "I think it will bring a smile to your face as it did mine."
Now, a break from the news
Smarter Living: Scientists have begun to determine how we can be more intentional about forgetting, and it's not just about suppression. Memory depends on a biochemical process that rebuilds the recalled scene, and that retrieval makes the recollection temporarily vulnerable to incremental revisions — say, refocusing less on the painful part and more on assistance or resilience afterward.
Love your hotel room? Some offer a test drive for amenities you can purchase.
And now for the Back Story on …
A presidential retreat
Today is the 40th anniversary of the signing of the Egypt-Israeli peace treaty, a direct offshoot of the 1978 Camp David accords.
The landmark accords were hashed out in tense talks at Camp David, the rustic presidential retreat in the Catoctin Mountains of Maryland. President Jimmy Carter carried messages and proposals between the cabin of Prime Minister Menachem Begin of Israel and that of President Anwar Sadat of Egypt.
The retreat as a vacation spot captured the affection of President Franklin Roosevelt, but not of all his successors. Barack Obama preferred Hawaii or Martha's Vineyard, Mass.
President Trump goes to his clubs in Palm Beach, Fla., and Bedminster, N.J., rather than Camp David. "It's nice. You'd like it," Mr. Trump once said of Camp David, adding, "You know how long you'd like it? For about 30 minutes."
The Navy maintains Camp David as an active military base, ready for any president who makes the 30-minute helicopter ride from the White House.
---
A recent Back Story mentioned that NASA was planning its first all-female spacewalk this month. The agency announced on Monday that the milestone had been canceled. The reason? There weren't enough spacesuits in the right size.

That's it for this briefing. See you next time.

— Chris
---
Thank you
To Mark Josephson, Eleanor Stanford and James K. Williamson for the break from the news. Mark Landler, a White House correspondent who has visited Camp David, wrote today's Back Story. You can reach the team at briefing@nytimes.com.
P.S.
• We're listening to "The Daily." Today's episode is about the special counsel's report.
• Here's today's mini crossword puzzle, and a clue: 24-hour source of 20s (3 letters). You can find all our puzzles here.
• Fifty-two years ago today, a countercultural "Be In" in Central Park spread a message of love and tolerance. The Times described it at the time as "noisy, swarming, chaotic and utterly surrealistic."


Source : Nytimes