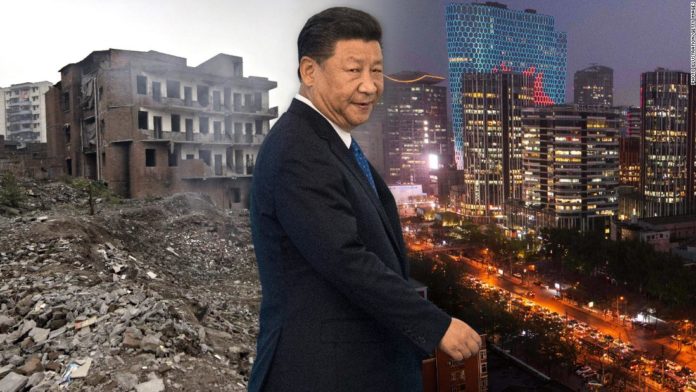 The idea to stream videos of the village came from Gaibao's chief poverty alleviation official, Wu Yusheng, and has helped the town, in the province of Guizhou, sell its organic produce online.
Residents also receive virtual gifts from fans via the app, which they can exchange for cash.
Wu, who arrived in the village in 2018, said he had already achieved his goal — but it is unclear whether Xi will do the same.
At worst, some experts fear the ruling Communist Party might just announce poverty has been eradicated, regardless of the reality, to avoid embarrassing Xi.
"Local leaders are taking it extremely seriously, almost in a panicky way. Part of the problem is that they don't know really what to do, so they're kind of grasping at different solutions," said John Donaldson, a poverty expert and associate professor at Singapore Management University. "They're throwing everything at it."
The campaign against poverty
The dream of eradicating widespread poverty in China didn't begin with Xi. It dates back to the Communist Party's rise to power in 1949. "The reason for the existence of the Chinese Communist Party in the beginning is because of injustice and poverty among farmers," Donaldson said.
Chairman Mao Zedong's economic experiments, however, actually set the country back, according to Steve Tsang, director of the China Institute at the University of London.
"In 1949, Shanghai was still a richer city than Hong Kong. In 1949, any coastal province was richer and more developed than Taiwan. In 1979, Hong Kong and Taiwan were way, way ahead," Tsang said.
Mao's disastrous Great Leap Forward, beginning in 1958, was ostensibly an attempt to transform a mainly agrarian society through industrialization and collectivization. Instead, it helped create a famine that cost tens of millions of lives and aggravated poverty across the country.
One of the Communist Party's main claims to power in recent years has been that it has lifted hundreds of millions out of poverty.
Perhaps for that reason, Xi still isn't satisfied. Despite the growing wealth of China's major cities such as Shanghai or Beijing, parts of rural China live without electricity, fresh water and adequate food or clothing.
"I toiled with the villagers at the time, with the aim to make life a bit better, but it was harder than reaching the sky in that year," he said.
Roads, internet and jobs
The government's plan is broadly divided into two strategies — big national policies and small local interventions.
Some older rural citizens have refused to go, while others have moved but then returned to their old homes. Maggie Lau, a professor at Hong Kong's Lingnan University, said such schemes aren't always pragmatic. "If they move to a higher-cost area, how can they afford those new living costs?" she asks.
But to a large degree, the anti-poverty campaign is small-scale and has been left in the hands of local officials.
"Every local official on a township level (one above a village) goes down to every poor household and tries to find out what's going on and why people are poor and how to apply resources to that," Donaldson said, describing his observations in Chinese villages.
The solutions proposed vary wildly but often focus on encouraging villagers to lift themselves out of poverty by developing local industries, engaging in e-commerce and boosting rural tourism.
While Donaldson said the effort expended was "amazing," problems emerged with government officials spending too much time just knocking on doors talking about poverty rather than tackling local problems. "The danger is that it will be a confused mess," he said.
There has also been a lack of patience with poor villagers who fail to get with the program.
"Some poor people even have the mindset of, 'You don't help, I don't move'," the report said.
Corruption and pollution
Failure is not tolerated — and the government is watching where its money is being spent.
There have also been signs that the government's laser-like focus on poverty is impeding another of its main goals — environmental conservation.
"Economic growth, poverty alleviation and ecological degradation do not appear to have de-coupled as required for long-term sustainable use of the environment, especially with regards to food security and access to clean water," the joint British and Chinese study said.
Some critics also note that the government has focused mainly on poverty in the countryside rather than in cities, ignoring less severe but still-pressing urban hardship.
'Absolutely confident'
Wu, the Guizhou village poverty alleviation chief, said he was "absolutely confident" the 2020 goal could be met.
"The government is doing everything to achieve that. And on the micro level, the targeting of poverty population is really precise. It's not a problem if the entire society is making an effort," he said.
But experts and international observers say China's poverty goals achieve the bare minimum — more work will be needed in the cities and the countryside to ensure everyone enjoys a high quality of life.
Qin Gao, director of Columbia University's China Center for Social Policy, said in a 2018 report that broader government support for healthcare and employment would be more useful than initiatives on an individual basis or e-commerce measures.
"Only a combination of effective development measures and social policies and services can help China eradicate persisting rural poverty in the long run," she said.
But Donaldson said that even if the target is met in 2020, he didn't believe the government would just abandon poverty as an issue.
"Any kind of responsible government would be focused on how you help improve the living standards of people who may not be poor but are still struggling," he said. "I expect that to be on the agenda of the party forever."


Source : Nbcnewyork