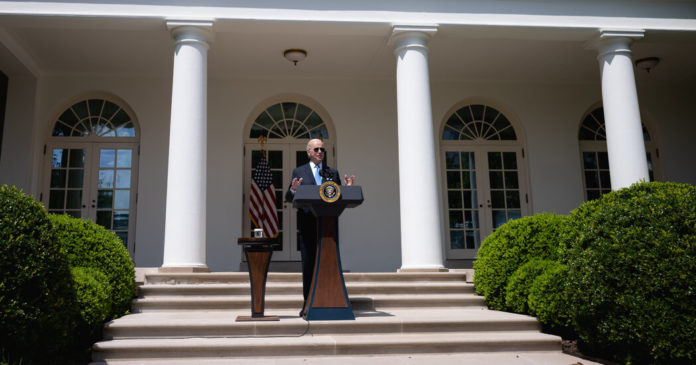 We're covering a marathon call between Presidents Biden and Xi Jinping of China, and fears of a recession in the U.S.
A tense call between the leaders of the U.S. and China
President Biden and President Xi Jinping of China spoke by phone for two hours and 17 minutes — their first direct conversation in four months during which relations between their countries have soured.
China and the U.S. have been at odds over Russia's war in Ukraine, tariffs and aggressive Chinese action in the Asia-Pacific region. The future of Taiwan, a self-governing island which China covets and which Biden has said he would defend with force, has become a particularly contentious issue, especially since Speaker of the House Nancy Pelosi is reportedly planning to visit.
China's Ministry of Foreign Affairs said that the call was productive, but issued a stern warning against what it considered American provocations, without directly mentioning Ms. Pelosi.
"Playing with fire will set yourself on fire," the ministry's statement said.
Analysis: Some American officials think that Xi is taking a harder line against the U.S. in order to distract the Chinese from domestic issues, "a tried-and-true technique of leaders everywhere," our colleague Peter Baker writes.
Gross domestic product, adjusted for inflation, fell 0.2 percent in the second quarter, the Commerce Department said, following a contraction of 0.4 percent in the first three months of the year. The level of G.D.P. decline so far in 2022 means that by one common but unofficial definition the U.S. economy has entered a recession, just two years after it emerged from the last one.
A test for Australia's law against foreign meddling
A judge in Australia ruled that a Chinese-Australian man accused of preparing for an act of foreign interference will head to trial, providing the first court test of a sweeping law that is fueling concerns of overreach.
The man, Di Sanh Duong, was charged in 2020 after raising money for a Melbourne hospital, which the authorities said was used to cultivate a relationship with a federal minister in order to influence policy to the advantage of China. Under the foreign influence law — enacted in 2018 amid anxiety over China's influence — he could receive a maximum sentence of 10 years.
The evidence against Duong is largely circumstantial. His lawyers argue that the prosecution is relying on weak evidence to reach conclusions on future matters and that doing so "strains every sinew of the criminal law." They said the $26,000 donation was merely a way of combating anti-Chinese racism.
But the judge agreed with the Australian authorities, allowing the prosecution to proceed without evidence that Duong was planning to commit an act of interference.
Legal view: Sarah Kendall, a legal researcher at the University of Queensland, said the case reflected the extensive reach of the law. Under it, she said, conduct that might be harmless in itself could be considered a crime if police could prove that behind the conduct was the required intent to prepare for foreign interference.
THE LATEST NEWS
World News
For thousands of years, Europeans consumed milk products despite lacking an enzyme needed to avoid gastrointestinal discomfort. In a new report, scientists argue that the lactase mutation only became important to survival when Europeans began enduring epidemics and famines.
Lives Lived: U Phyo Zeya Thaw, a Burmese hip-hop star turned pro-democracy activist and politician, was executed by Myanmar's military junta on Saturday.
The Plight of Brittney Griner in Russia
The American basketball star has endured months in a Russian prison on charges of smuggling hashish oil into the country.
The Royal Shakespeare Company in Stratford-upon-Avon, England, cast Arthur Hughes, who has radial dysplasia, which means he has a shorter right arm and a missing thumb. The company said it was the first time it had cast a disabled actor to play the character, who describes himself in the opening scene as "deformed."
The Stratford Festival in Ontario, Canada, took a different tack: It cast Colm Feore, who is not disabled, to play a Richard who has a deformed spine. And in New York City, the Public Theater's Free Shakespeare in the Park went in yet another direction, casting Danai Gurira, a Black woman who does not have a disability.
Their varying approaches come at a moment when an intense rethinking of the cultural norms around identity, representation, diversity, opportunity, imagination and artistic license have led to impassioned debates over casting.
PLAY, WATCH, EAT
What to Cook


Source : Nytimes