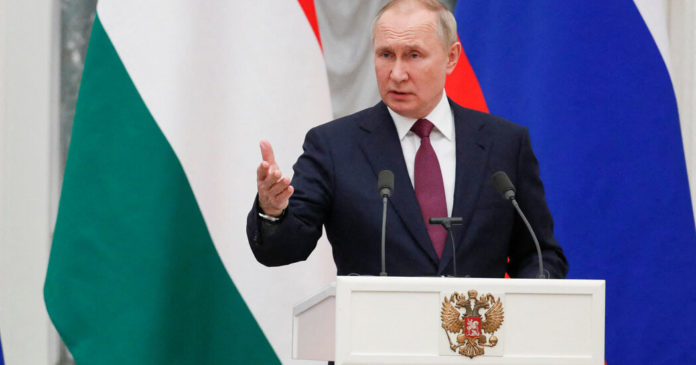 We're covering Putin's comments on the Ukraine crisis, and why supply chain chaos is unlikely to end soon.
Putin says U.S. wants to push Russia into war
Addressing the Ukraine crisis for the first time since December, President Vladimir Putin of Russia said that the U.S. was trying to pull Russia into an armed conflict over Ukraine that Russia did not want.
Speaking at a news conference in Moscow on Tuesday, Putin said that the West had not yet satisfied Russia's demands for security guarantees, but that he hoped "dialogue will be continued." The U.S. and NATO delivered written responses to Russia's demands last week.
"Their most important task is to contain Russia's development," he said of the U.S. "Ukraine is just an instrument of achieving this goal. It can be done in different ways, such as pulling us into some armed conflict and then forcing their allies in Europe to enact those harsh sanctions against us that are being discussed today in the United States."
Russia has amassed 100,000 troops at Ukraine's borders and Putin has threatened to take unspecified action if Russia's demands are not met.
The demands: The Kremlin wants NATO to vow not to expand eastward, draw down troops in Eastern European countries and promise that Ukraine will never join NATO. U.S. and European officials have dismissed such demands as non-starters.
Related: NATO countries have trained and helped equip the Ukrainian army. But it still bears little resemblance to the kind of sophisticated military that distinguishes NATO members.
---
Doing so will require investment, technology and a refashioning of the incentives at play across global business. It will take more ships, additional warehouses and an influx of truck drivers, none of which can be conjured quickly or cheaply.
It could take months or years. "It's unlikely to happen in 2022," said Phil Levy, chief economist at Flexport, a freight forwarding company based in San Francisco. "My crystal ball gets murky further out."
Impact: Cheap and reliable shipping may no longer be taken as a given, forcing manufacturers to move production closer to customers. The crunch has companies across various industries warning of delays or impacts to profits.
Big picture: The International Monetary Fund last week cited supply chain woes among other factors as it downgraded its forecast for global growth for 2022 to 4.4 percent from 4.9 percent. Mayhem at factories, ports and shipping yards, combined with the market dominance of major companies, is a key driver for rising prices.
The latest hoarding trend: In many parts of the U.S., there is little to no commercial warehouse space available to stockpile goods as a hedge against supply chain problems. Some firms are signing deals for new space long before construction even begins.
---
In Denmark, mask mandates are no longer required. Nightclubs will reopen. And it will be up to businesses and venues to decide whether to continue requiring patrons to have health passes showing proof of vaccination or recent recovery from Covid.
And in Norway, working from home will no longer be required, and the cap of 10 visitors in private homes is ending, Prime Minister Jonas Gahr Stoere said.
The Danish government has said it no longer considers Covid a "socially critical disease" — a designation that allows officials to enforce business closures and mask mandates. The two countries are among the first European nations to abandon pandemic restrictions in favor of treating the virus as endemic.
Quotable: "Even if many more people are becoming infected, there are fewer who are hospitalized," Stoere told a news conference. "We're well protected by vaccines."
Here are the latest updates and maps of the pandemic.
In other developments:
THE LATEST NEWS
Asia Pacific
The art of the celebrity pregnancy photo shoot has evolved since Demi Moore's big moment on the cover of Vanity Fair in 1991. Its new winning entrant? Rihanna.
Is it zhuzh or zhoosh?
When you fluff up pillows on your well-worn sofa, or turn your shirt sleeves up just-so, or sprinkle some spices over your morning eggs, you may be engaging in the art of the "jeuje." Or is it "zhoosh"? Make that "zhuzh."
However it's spelled, the word is used to convey what is often hard to: the act of adding an extra something special, a little oomph, to a dish, hairdo, outfit or any number of things.
Theories abound online. A few have placed their bets on Yiddish. Others swear the term is Romani in origin, derived from the word "zhouzho," meaning clean or neat. And still others insist that it is an expressive formation, like "whoosh."
The most interesting origin story is also the one with the most historical backing. According to Paul Baker, a linguist at Lancaster University in England, the word can be traced to Polari, "a secret form of language, used mostly by gay men, which flourished in the early 20th century" in Britain.
Jonathon Green, who has spent the last 40 odd years working on an online dictionary of slang, cited early usage of the word — spelled as "zhoosh"— in a 1977 article from the British newspaper Gay News: "We would zhoosh ['fix'] our riahs ['hair']."
While the origins of "zhuzh" may be a little clearer, the jury is as divided as ever on how to spell it.
PLAY, WATCH, EAT
What to Cook
That's it for today's briefing. See you next time. — Melina
P.S. The Times bought the wildly popular game Wordle.
The latest episode of "The Daily" is about inflation in the U.S.
You can reach Melina and the team at briefing@nytimes.com.


Source : Nytimes