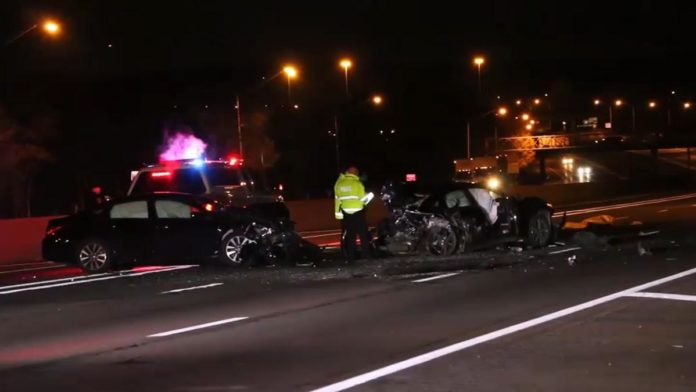 What to Know
A 31-year-old father who got out of his vehicle after he got into a crash on the Long Island Expressway was fatally struck by a car

Eric Preto, 31, got out of his vehicle after he rear-ended a Mercedes near exit 49, police said

He was struck by a third vehicle as he was was walking back to his car and pronounced dead at the scene
A 31-year-old father who got out of his vehicle after he got into a crash on the Long Island Expressway was fatally struck by a car, police said. 
Eric Preto, 31, of Selden, was driving on the expressway with his wife and 2-year-old son around 12:38 a.m. on Saturday when he hit a Mercedes Benz that was traveling east in the middle lane near exit 49, Suffolk County police said.
After Preto got out of his Nissan to survey the damage and speak to the Mercedes driver, he was hit by a woman driving a 2015 Subaru, according to police.
A second driver then hit Preto's car, police said.
Preto was pronounced dead at the scene, according to police. His wife and child and two of the other drivers involved in the crash were taken to the hospital for evaluation. The third driver was evaluated at the scene.
Police didn't immediately provide updates about their conditions. No one had been arrested in connection with the crash as of Saturday morning.
Anyone who witnessed the crash is asked to contact police at 631-854-8252.




Source : Nbcnewyork