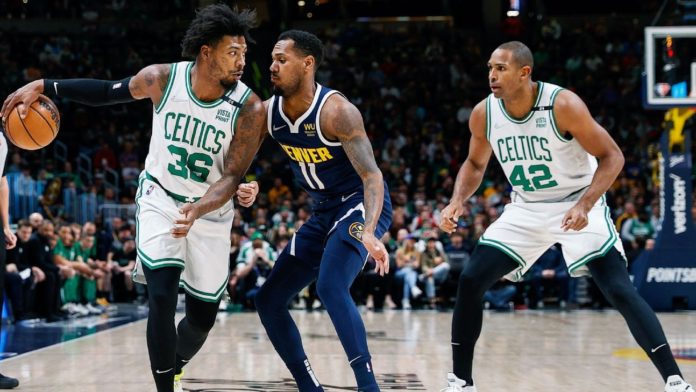 MIAMI — Boston Celtics starters Marcus Smart (midfoot sprain) and Al Horford (health and safety protocols) will miss Game 1 of the Eastern Conference finals against the Heat in Miami, the team announced about two-and-a-half hours before tipoff Tuesday night.
Smart suffered the sprain in Game 7 against the Bucks on Sunday, and had been listed as questionable for the series opener in Miami.
Horford's absence, meanwhile, comes as a total surprise, with no indication of any issue with the veteran forward until the team announced that he had entered the protocols. Sources told ESPN's Adrian Wojnarowski that the Celtics expect to be without Horford through at least Game 2 here Thursday night.
This marks the third time Horford has been placed in the league's health and safety protocols. He tested positive for COVID-19 during the preseason, and then was placed in the protocols again in December.
It means the Celtics will require more from Robert Williams III, who missed Games 5 and 6 against Milwaukee with a bone bruise in his left knee – the same one he had surgery on late in the regular season, forcing him to miss three-plus weeks. He was also active for Game 7 of the Bucks series, but did not play, as coach Ime Udoka said he wanted to be cautious with the his center as he returned and didn't want to shake up his rotation.
Sources told Wojnarowski that Williams should be able to play significant minutes in Game 1 against the Heat after multiple good days of practice in his buildup to a return.
"Rob is available, just like he was [in Game 7]," Udoka said after Monday's practice before the team flew to Miami. "I mentioned he'd be on a needed basis, and he's available, no minutes restriction. I'm always going to be a little bit cautious with guys coming off a layoff without touching the court, but it's a little bit different starting a new series as opposed to being injected into a Game 7 or Game 6 or whatever the case was before. But he's available, looking better every day, and getting more confident in that."
Smart, the NBA Defensive Player of the Year, suffered the injury in Boston's Game 7 victory over Milwaukee, when he took a tumble over Bucks superstar Giannis Antetokounmpo.
"It's how he reacts to treatment throughout the day," Udoka said after Tuesday morning's shootaround when asked about Smart's chances of playing. "The swelling is there, the soreness is there, but we hope he has good treatment and we'll see how it goes. It's still sore. But he has a long day — an extra hour or two, and we'll see how he feels. Legitimately questionable."
News of the absences of both Smart and Horford had an immediate sports betting impact. The Game 1 point spread moved from Heat -2.5 to Heat -4 at Caesars Sportsbook.


Source : ESPN