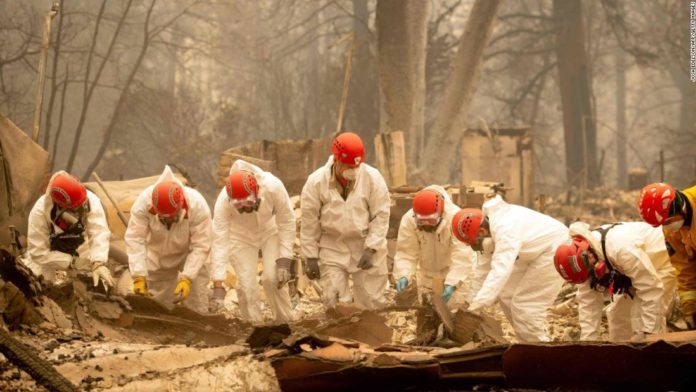 "A lot of people are displaced, and a lot of people don't know we're looking for them," Butte County Sheriff and Coroner Kory Honea said late Thursday.
The dramatic rise in those unaccounted for came after authorities combed through a week of 911 calls and incident reports. Combined with relatives who have reported loved ones missing, investigators are looking into reports of 631 people possibly missing.
"You have to understand, this is a dynamic list," Honea said. "Some days might be less people, some days might be more people, but my hope at the end of the day, we have accounted for everybody."
A week after two major wildfires sparked at both ends of California, the death toll has increased to 66 statewide, fire officials said.
Hundreds of deputies, National Guard troops and coroners are sifting through leveled homes and mangled cars for remains.
"They are going to be searching vehicles that have been burned. They'll be searching residences that have been burned. Checking around the residences … our mission is to find the victims from this fire, recover them and get them identified and notify the families to give them some answers," Butte County Sheriff's Investigations Sgt. Steve Collins said.
Scores reported missing
The number of names on the Camp Fire's missing list soared Thursday, but authorities said they are struggling to confirm whether all are still unaccounted for.
Honea said investigators combined all the information they have received from callers since the fire erupted more than a week ago. Some names on the list appear more than once, and it's unclear if any are duplicates, Honea said.
Officials have said it's hard to determine the number of missing. Some people who may have evacuated can't be reached because cell phone service is unreliable. Others haven't reached out to relatives, and they may not know someone is looking for them, he said.
"I want you to understand," Honea said, "that there are a lot of people displaced, and we're finding that a lot of people don't know that we're looking for them."
For two days, Paradise police Officer Matthew Gates searched through ash and collapsed buildings for the remains of a woman.
When the Camp Fire broke out, a man told Gates his mother was likely driving on a jammed roadway that hundreds used to flee the flames. But Gates couldn't find her.
Then Gates finally came across her at an evacuee shelter.
Authorities are trying to reach those who called 911 to verify they've made contact with their loved ones, said Collins of the Butte County Sheriff's Office.
"We're asking people to call us if they do come in contact with their loved one so that we don't spend time looking for somebody that's already found."
'I see flashbacks of the fire'
Everything she and her husband, Grady, own is gone, along with a home they were renting, "a quirky older house with lots of character and lots of room" for their six kids, she said.
Thankfully, her two kids and his children are able to stay with the other parents, but Vaughan said she and her husband are essentially homeless. One night they just began driving from town to town in search of a motel.
"So now we are homeless, have no money, are trying to find a place," Vaughan said. "And if that isn't bad enough, when I do close my eyes, I see flashbacks of the fire and the people trapped on our streets. The explosions and the screams will never be a sound that I can forget."
Vaughan said she's worried about how she's going to explain to her 7-year-old daughter and 14-year-old son that she'll likely have to move away while they find some level of stability.
"There are just too many people in the same situation," she said. "I don't know what to do anymore. We have nowhere to turn.
"This fire has changed us in ways I can never explain."
Housing shortage
Families who have lost homes are going to have a hard time finding a place to live, Butte County Housing Authority Executive Director Ed Mayer said.
"We just had 10% of our county's housing stock erased in one day; it's hard to convey the significance of that," he said.
A Walmart in Chico has a parking lot full of vehicles, including motor homes, in which people are living, often running the heat in their cars and trucks all night. Other people are staying in tents.
"It's been a week and people have been great, but I don't know how long it's going to last," Mayer said. "Short term, we are fine, but long term we are not."
One of the selling points of Paradise was its affordable housing, but that's been erased, Mayer said.
"And there is nothing to replace it" for low-income families, he said.
The stomach bug causes vomiting, nausea and diarrhea. At least 25 have been sent to the hospital.
Butte County is working with the Red Cross to contain the virus and create separate shelter areas for sick evacuees.
66 deaths statewide
Of those killed in the Camp Fire, officials have tentative identifications on 53 of them, Honea told reporters.
"We're waiting for DNA confirmation before we conclusively state who those individuals are and that will allow us to then verify that information to the next of kin," he said.
More than 98,000 acres have been burned since the blaze began November 8, while evacuees remain in shelters and portions of Malibu and nearby areas must be rebuilt, officials said.
More than 3,300 firefighters are making progress against the massive wildfire, which was 67% contained as of Friday.
Some mandatory evacuations remained in place late Thursday due to damaged utility poles, power lines and roads.
More than 230,000 acres burned in California in the past week — larger than the cities of Chicago and Boston combined. And in 30 days, firefighters have battled more than 500 blazes, Cal Fire said.
CNN's Dakin Andone, Faith Karimi, Steve Almasy, Joe Sutton, Nick Valencia, Amanda Watts and Dan Simon contributed to this report.


Source : Nbcnewyork