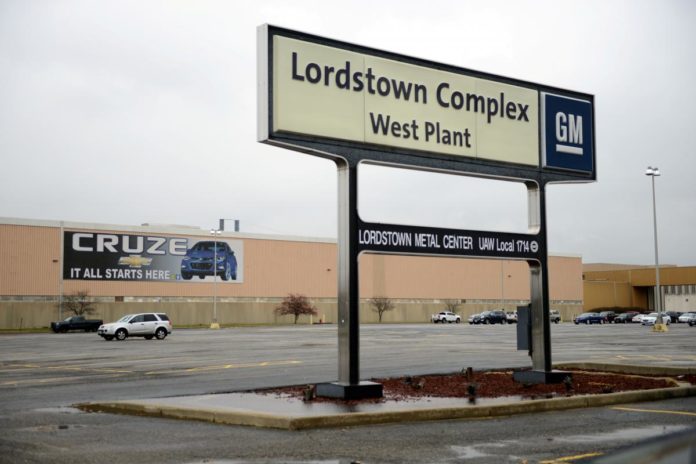 DETROIT (Reuters) – General Motors Co's monumental announcement on Monday that it will close three car assembly plants in North America and slash its workforce will only partially close the gap between capacity and demand for the automaker's sedans, according to a Reuters analysis of industry production and capacity data.
Sales of traditional passenger cars in North America have been declining for the past six years and are still withering. After GM ends production next year at factories in Michigan, Ohio and Ontario, it will still have four U.S. car plants, all operating at less than 50 percent of rated capacity, according to figures supplied by LMC Automotive.
In comparison, Detroit-based rivals Ford Motor Co and Fiat Chrysler Automobiles NV will have one car plant each in North America after 2019.
The Detroit Three are facing rapidly dwindling demand for traditional passenger cars from U.S. consumers, many of whom have shifted to crossovers and trucks. Passenger cars accounted for 48 percent of retail light-vehicle sales in the United States in 2014, according to market researchers at J.D. Power and Associates. This year, sedans will account for less than a third of light vehicle sales.
That shift in turn has left most North American car plants operating far below their rated capacities, while many SUV and truck plants are running on overtime.
The collapse in passenger-car demand is a challenge for nearly all automakers in the United States, including Japan's Toyota Motor Corp and Honda Motor Co Ltd, which have the top-selling models in the compact and midsize car segments. Toyota executives said last month they are evaluating the company's U.S. model lineup. But Toyota also plans to build compact Corolla sedans at a new $1.6 billion factory it is building in Alabama with partner Mazda Motor Corp.
The obstacles facing GM in its plans to close more auto factories became apparent on Tuesday as U.S. President Donald Trump threatened to block payment of government electric vehicle subsidies to GM. While it is not certain that Trump unilaterally has the power to do that, he made it clear he intends to use his office to pressure the company to keep open a small car plant in Ohio that GM says will stop building vehicles in March.
Asked whether GM's plans to close factories and cut jobs might not solve the demand problem for its sedans, GM spokeswoman Kimberly Carpenter said on Tuesday: "We continuously look at our operations for opportunities to improve our efficiency and capacity utilization. We believe the actions announced yesterday move us in the right direction and we will continue to monitor the market and consumer trends and adjust accordingly."
Shares of the No. 1 U.S. automaker closed 2.5 percent lower at $36.69 on Tuesday, after rising nearly 5 percent the previous day.
ABANDONMENT ISSUES
GM executives have said they do not intend to abandon cars to the extent that Ford and FCA have. GM car plants that will remain open include Fairfax, Kansas, which builds the Chevrolet Malibu and Cadillac XT4 compact SUV. But that plant is operating at 48 percent of capacity, well below the 80 percent that GM Chief Executive Mary Barra is targeting as the average for North America.
A GM plant in Lansing, Michigan, that builds the Cadillac ATS and CTS and Chevrolet Camaro is running at just 33 percent capacity, while the GM Orion Township, Michigan, facility that builds the Chevrolet Bolt electric car and the Chevrolet Sonic subcompact runs at 34 percent capacity. A Bowling Green, Kentucky, plant that builds the Chevrolet Corvette sports car works at just 27 percent of its potential output, according to LMC data.
"Until GM gets more flexibility in its platforms, it will continue to have to play whack-a-mole with its plants as the market transitions – and it will happen again," said LMC analyst Bill Rinna.
In all, the four GM car plants that will remain open have a combined capacity of more than 800,000 vehicles a year, but are expected to produce only 360,000 cars this year, according to LMC.
Industry analysts have said the general break-even point for running an assembly plant profitably is around 80 percent. Barra said on Monday GM's North American plants are running at 70 percent capacity – including truck and SUV plants that are working overtime.
Ford plans to end production in March of the Taurus at its Chicago plant, which also builds the Explorer and Aviator SUVs. That will leave the automaker with only one U.S. car plant, in Flat Rock, Michigan, which currently builds the Ford Mustang and the Lincoln Continental. The Mustang is due for a mild redesign around 2021, but the Continental is scheduled to be phased out then, according to two sources familiar with the company's plans. Flat Rock is running at just 49 percent of capacity, but Ford has said it plans to add new products to the plant, including its first automated vehicle, in 2021.
Fiat Chrysler still builds the full-size Chrysler 300 and Dodge Charger and Challenger at its Brampton, Ontario, plant. Demand for those large cars remains robust, and the plant is running at nearly 80 percent capacity.
Reporting by Paul Lienert in Detroit; Editing by Joseph White and Matthew Lewis


Source : Denver Post