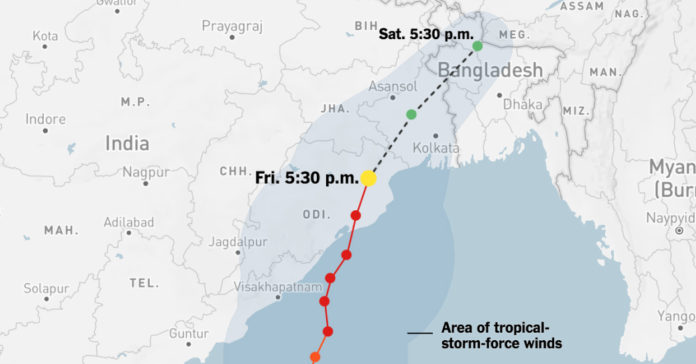 • Cyclone Fani, one of the strongest storms to batter the Indian subcontinent in decades, made landfall near Puri, India, on Friday morning, lashing the coast with winds gusting at more than 120 miles per hour. By Friday night, the storm was over coastal Odisha, according to India's Meteorological Department, and appeared to be weakening.
• Tens of millions of people were in the cyclone's path. India and Bangladesh each evacuated more than a million people from coastal areas. Large sections of coastal India and Bangladesh were threatened by storm surges, and heavy rains could cause rivers to breach.
• The fast-moving storm struck the coast with the force of a major hurricane. Several hours after it made landfall, the cyclone was downgraded to a "very severe" storm from an "extremely severe" storm. At 11:30 p.m. in India, the storm's center was about 90 miles southwest of Kolkota and moving northeast, the meteorological department said.
• The cyclone may be packing extra force because of climate change, which has been linked to intensified storms in warm wet areas as well as severe drought in drier regions.
Aid efforts begin, but full impact is unclear
By Friday night, the full impact of the storm was still being assessed, according to local officials. India's Coast Guard said on Twitter that emergency workers had started providing aid within the first hour of the storm making landfall.
Some relief efforts were hampered by extensive damage. Many large trees were uprooted and toppled onto roads in Puri district, according to a government spokesman, but road restoration work had already begun by Friday night.
Phone lines, internet and electricity were all down in the city, but the government vowed to have services running again soon. At least 160 people were injured by the storm, the government spokesman said.
The military conducted aerial surveys Friday evening to assess the damage, and at least four ships with aid supplies were stationed in affected areas, the Indian Navy said on Twitter.
Reports of destruction, and possibly deaths
A relief official for the state of Odisha, where the cyclone made landfall, said Friday afternoon that many trees had been uprooted and houses destroyed, and that there had been unverified reports of deaths. The official, Pravat Ranjan Mohapatra, said the situation would be clearer on Saturday. NDTV, a major Indian news network, reported that three people had been killed.
Along India's coast, streets were largely empty as residents heeded warnings from the India Meteorological Department.
"In Bhubaneswar, we are all indoors," said Jagdish Chandra Rout, head of communications for Gopalpur Port Limited. "Nobody is visible on the road, nothing is moving on the road."
Mr. Rout said he felt the area was much better prepared for the storm than in 1999, when more than 10,000 people died in a cyclone.
"We feel that yes, we may have some difficult days ahead, but no panic," he said. "We are prepared, we know what is coming when and where."
Video verified as having been taken in Bhubaneswar that was shared widely on social media shows a wind-whipped crane collapsing on a nearby building.
Others in the city described scenes of destruction. Kalpataru Behra, 25, lives in a roadside shanty in Bhubaneswar. He said that his house and the small snack shop he runs were both seriously damaged by the storm, and that his house was flooded on Friday.
"Tonight we plan to sleep in a community center," he said. "It is difficult to rebuild. We don't have money in hand."
Rohingya refugees at risk from the storm
Aid agencies feared that one million Rohingya refugees, a minority group who fled persecution in neighboring Myanmar and now live in makeshift settlements in the low-lying area of Cox's Bazaar in Bangladesh, were at risk from the cyclone. The United Nations refugee agency said it had positioned emergency tents in the Bangladesh camps.
The aid agency CARE, which works in the area, said Friday that the risk was high.
"The densely populated Rohingya refugee camps in Cox's Bazaar are susceptible to deadly mudslides triggered by torrential rainfall," said Zia Choudary, the country director of CARE Bangladesh. "The concentration of the one million displaced Rohingya people in Cox's Bazaar is now among the densest in the world and, even if the region is not hit directly, the impacts of Cyclone Fani will create havoc."
The storm was expected make landfall in Bangladesh early Saturday.
Mass evacuation in India and Bangladesh
The Indian authorities evacuated more than a million people from parts of the nation's eastern coast this week, in what appeared to be an early-warning success story.
Using television, loudspeakers, radio and text messages to warn residents about the dangers of the storm, India's disaster relief agency and meteorological department warned of the "total destruction" to thatched huts in some districts, major damage to roads, the uprooting of power poles and the potential danger from flying objects.
Cyclone Fani was forecast to drop as much as eight inches of rain on northern parts of the state of Andhra Pradesh and on the state of Odisha.
Schools have been closed, fishermen asked to keep off the water and tourists urged to leave the city of Puri, a Hindu pilgrimage site where an elaborate, centuries-old temple could be at risk of severe damage. Airports in the cyclone's path were closing and hundreds of trains have been canceled.
Along Odisha's coast, more than 850 storm shelters have been opened, said Bishnupada Sethi, the state's special relief commissioner. Each can hold about 1,000 people, along with livestock.
In Bangladesh, Shah Kamal, the disaster management secretary, said that by Friday night more than 1.2 million people in 19 districts had been evacuated to cyclone shelters.
The government there, similarly, suspended fishing operations, closed ports and ordered an early harvest of rice crops.
Cyclone's effects felt on Mount Everest
The cyclone was affecting the weather as far away as Mount Everest, where climbers on their way to the summit turned around after conditions worsened.
At Camp 2, 21,000 feet above sea level, climbers reported an increase in cloud cover and moisture, and high winds tore apart tents. Many climbers from higher up the mountain began making their way down to Base Camp, at 17,600 feet above sea level.
Nepal's Ministry of Home Affairs banned helicopters from flying in high mountain areas through the end of the weekend and issued a warning to mountaineers and trekkers on the mountain. More than 1,000 people, including climbers, high-altitude guides, support staff and government officials, have reached Everest Base Camp since the spring climbing season began in March.
A history of devastating cyclones
The Bay of Bengal has experienced many deadly tropical cyclones, the result of warm air and water temperatures producing storms that strike the large populations along the coast.
Officials said Cyclone Fani could be the most powerful to strike India since 1999, when a cyclone lingered for more than a day over India's eastern coast, flooding villages, blowing apart houses and ultimately killing more than 10,000 people.
Since that storm, the authorities in the region have significantly improved disaster preparation and response capabilities, strengthening coastal embankments and preparing evacuation routes, according to a World Bank report. Subsequent major storms have resulted in far fewer deaths.
The state of Odisha was much better prepared for Cyclone Phailin in 2013. About one million people were evacuated, more than twice as many as in 1999, and the storm killed 45 people, the World Bank said.
"All of these efforts bore fruit when Cyclone Phailin made landfall," the report said.
Cyclone Fani could still bring severe dangers to the region, however, threatening flooding in inland river basins, depending on its path, in the Ganges River delta region, where the Indian city of Kolkata is home to millions.
In 2007, Cyclone Sidr killed at least 3,000 people in nearby Bangladesh, and in 1991, a cyclone killed at least 1,000 there and left millions homeless. In 1970, the so-called Great Bhola Cyclone drove a tidal wave into what was then East Pakistan, in a disaster that killed an estimated 300,000 people, according to the World Meteorological Organization's World Weather & Climate Extremes Archive.
"Unfortunately this region, especially the delta area, has produced the highest death tolls from tropical cyclones on the planet," said Derrick Herndon, a storm researcher at the University of Wisconsin-Madison. "Many people live in regions barely above sea level."
And Cyclone Fani has already proved "one of the most intense in the past 20 years," according to Clare Nullis, a spokeswoman for the World Meteorological Organization.




Source : Nytimes