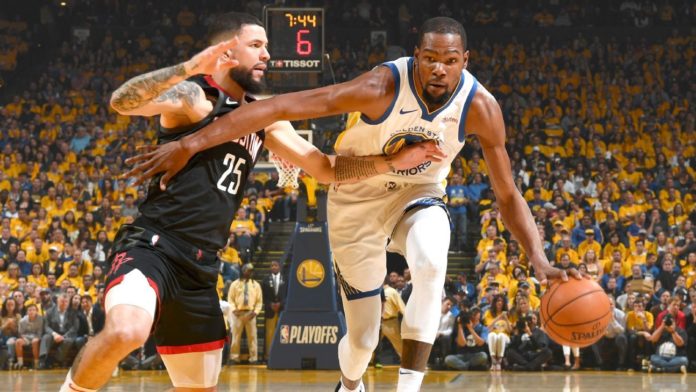 Golden State Warriors star Kevin Durant will have his strained right calf reevaluated on Thursday and will miss at least Tuesday's Game 1 of the Western Conference finals against the Portland Trail Blazers, the team announced Monday.
"He hasn't even stepped on the floor yet," Warriors coach Steve Kerr told reporters. "He still has pain. There's time ahead of him on the rehab process. We'll have a more detailed update on Thursday."
It's unlikely Durant will play in Thursday's Game 2, a source tells ESPN's Ramona Shelburne.
Durant injured his calf in the third quarter of Wednesday night's 104-99 Game 5 win over the Rockets in the conference semifinals.
With 2:11 left in the quarter, Durant went up for a jumper over Rockets swingman Iman Shumpert and landed awkwardly. Initially, Warriors personnel were concerned that Durant had suffered an Achilles injury, but an MRI on Thursday confirmed the calf strain.


Source : ESPN