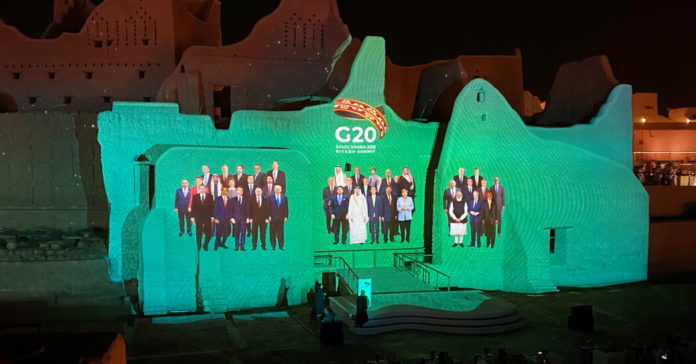 Discussions on how to tackle the coronavirus pandemic and deal with the global economic damage it has wrought dominated the Group of 20 summit, which began on Saturday and is being hosted virtually by Saudi Arabia.
In private sessions, heads of state of the world's 19 richest countries and the European Union spoke about how to ensure the equal distribution of vaccines and potential debt relief for poor countries hit hard by the virus.
"We must work to create the conditions for affordable and equitable access to these tools for all peoples," King Salman of Saudi Arabia, 84, said of vaccines and treatments during his opening address. "At the same time, we must prepare better for any future pandemic."
The pandemic has reached new levels around the world and killed more than 1.3 million people. The seven-day average of new daily infections topped 578,000 as of Friday, double what it was two months ago. Major economies collapsed in the first half of the year, improved in the late summer and then tumbled again in a new surge of virus cases. The strains of the catastrophe — from failed businesses and elevated joblessness to disrupted education and increasing global poverty — appear likely to endure, potentially for years.
Speaking from New York a day before the summit, the United Nations secretary general, António Guterres, called on the leaders to ensure that vaccines be made available to people around the world, not just the rich countries that have already reserved much of the vaccine supplies. He said $28 billion would be needed to achieve that goal, in addition to the $10 billion already invested.
"This funding is critical for mass manufacturing, procurement and delivery of new Covid-19 vaccines and tools around the world," Mr. Guterres said. "G20 countries have the resources."
President Trump briefly participated in the summit from the White House Situation Room. But he was not listed as a participant at a sideline event on pandemic preparedness, instead following his recent weekend routine of tweeting assertions of election "fraud" and heading to his Virginia country club for a round of golf.
The virus transformed the annual summit, reducing an event that was supposed to allow Saudi Arabia to play host to the world's great powers to a giant webinar.
The shift deprived Crown Prince Mohammed bin Salman, a son of the king and the kingdom's de facto ruler, the opportunity to mingle with other global leaders, which could have helped revive his international reputation.
Saudi Arabia and Prince Mohammed, 35, have faced harsh criticism for the Saudi military intervention in Yemen, the arrest of peaceful activists and the killing and dismembering of the dissident Saudi writer Jamal Khashoggi in Istanbul in 2018.
Saudi critics lobbied G20 members to boycott the summit or to use the platform to speak out about human rights. None did. Diplomats said the meeting was too important to miss, but that they often raised rights concerns with Saudi leaders privately.


Source : Nytimes