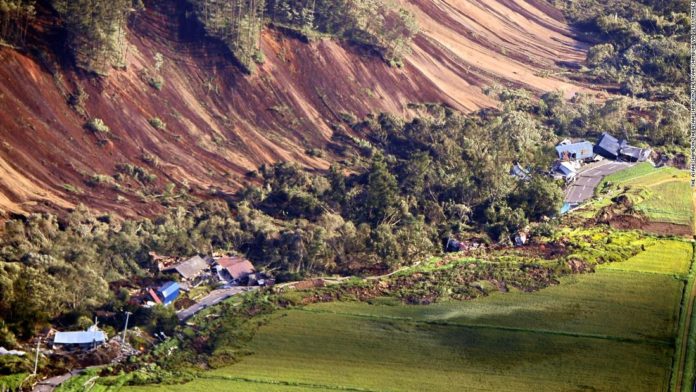 Two people remain missing, and at least 401 people were injured, the agency said Sunday. Evacuation centers are still holding 5,788 people.
The quake is the latest in a string of natural disasters that have hit Japan recently, including
deadly floods
, typhoons, earthquakes, landslides and
heatwaves
.
The number of confirmed dead and injured in the quake on the northern island of Hokkaido has risen steadily from the nine reported Friday.
Lasting almost a minute, powerful tremors jolted people from their beds early Thursday, collapsing roads and causing landslides that buried homes and other buildings.
Near the epicenter, landslides wiped out houses in the tiny town of Atsuma, home to 40 residents.
Almost 3 million households lost power initially, the Hokkaido Electric Power Company said. Almost half had power restored Friday.
Photos from Sapporo, Hokkaido's main city on the western part of the island, showed huge cracks in the street and buried houses.
As many as 40,000 people, including 22,000 troops from the country's Self Defense Forces, have been involved in the rescue efforts.
High winds smashed a tanker into a bridge, forcing one of the country's largest airports to close and leaving at least 10 people dead.
On Japan's main island of Honshu, nine cities and towns issued compulsory evacuation orders. A further 53 issued non-compulsory evacuation orders.
Before it made landfall, the storm had sustained winds of 140 kilometers per hour (87 mph) and gusts of 165 kilometers per hour (102 mph), the equivalent of a Category 1 Atlantic hurricane.
CNN's Phil Gast and Euan McKirdy contributed to this report.


Source : Nbcnewyork