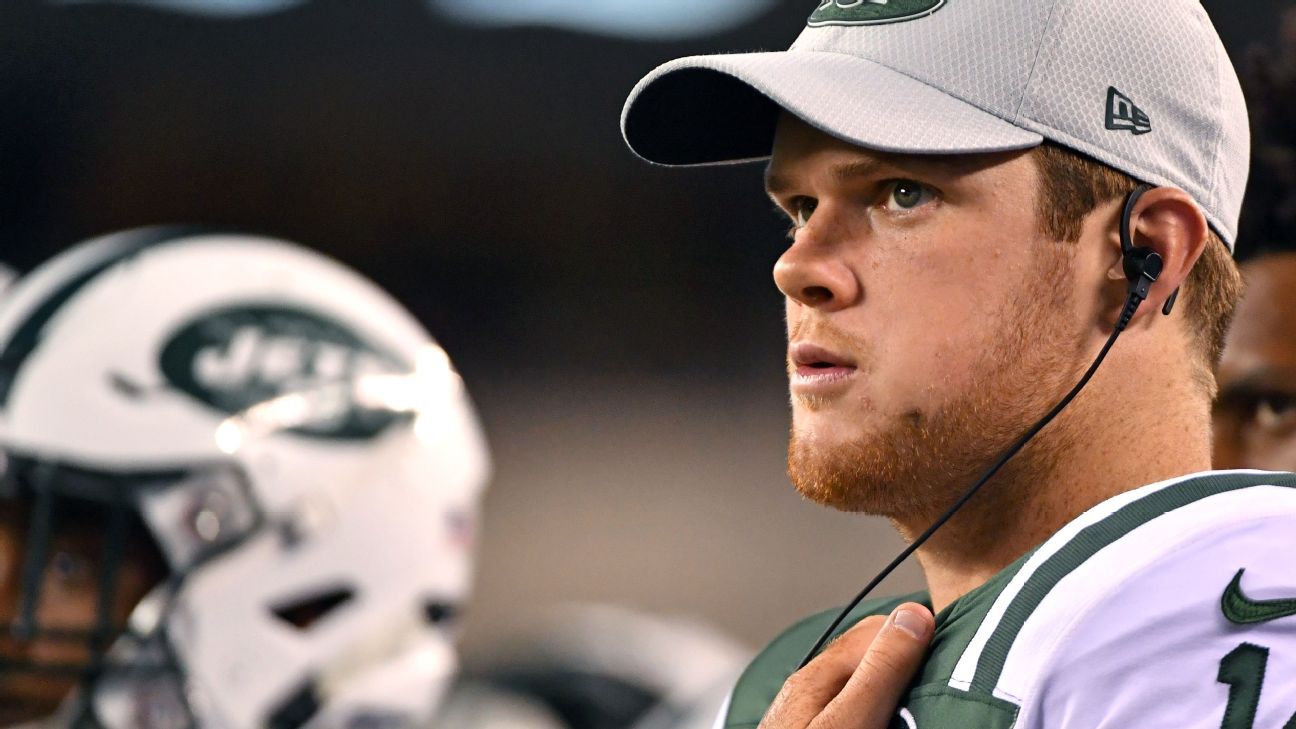 FLORHAM PARK, N.J. — Congratulations, Sam Darnold. You got the job. Free advice: Wear extra padding and don't listen to talk radio.
Named Monday as the New York Jets' starting quarterback, a move that surprised no one in the Western Hemisphere, Darnold steps into one of the toughest gigs in sports. This is a star-crossed franchise with a terrible history for developing young quarterbacks. He will preside over a rebuilding team with a mediocre offense that will struggle to protect him.
Oh, by the way: The expectations are out of control, fueled by lavish endorsements from Joe Namath, Josh Norman and Tony Romo, who actually said Darnold has the potential to be on the same level as Tom Brady and Aaron Rodgers.
Can we let him play a game first?
Darnold was rushed into the job after a solid — if not stellar — preseason, but this is what happens when you're the third overall pick in a place like New York. Ready or not, he's the Sam-chise. His biggest threat, Teddy Bridgewater, was removed from the equation last week, traded to the New Orleans Saints. The 2018 season is all about Darnold, growing pains and all.
Realistic expectations? Let's talk about Carson Wentz, 2016.
Drafted second overall by the Philadelphia Eagles, Wentz was handed the starting job when Sam Bradford was traded late in the preseason to the Minnesota Vikings, who were desperate to replace the injured Bridgewater. (Ah, so many parallels.) Wentz started off great as a rookie, cooled off around midseason and finished with pedestrian rookie numbers — 16 starts, 16 touchdowns and 14 interceptions. The Eagles finished 7-9, but there was optimism because they knew they had found their franchise quarterback.
We know what happened last year. Wentz played at an MVP level before suffering a late-season knee injury, robbing him of the chance to finish the Eagles' Super Bowl journey.
The Jets would be thrilled if Darnold follows Wentz's career arc, sans knee injury. Their plan is to give Darnold his on-the-job training this season, hoping for team improvement as well. (Let's be honest, a 7-9 record would be a success.) In 2019, they can bolster his supporting cast with $90 million in cap room, setting themselves up for a serious run. This isn't to suggest they'll be "Philly Special" in 2019, but it's a practical timeline with regard to Darnold's growth.
"To me, it's all about what Philadelphia did with Carson Wentz," former NFL quarterback Boomer Esiason said. "I'm not saying the Jets are going to the Super Bowl next year, but get Sam Darnold to that level in Year 2."
In 2016, Esiason remembers getting a phone call from an excited Frank Reich, his friend and former college roommate. Reich, the Eagles' offensive coordinator at the time, had traveled to North Dakota State to work out Wentz before the draft and was blown away by his talent and maturity. A few days later, Esiason said, the Eagles traded up, putting themselves in position to draft Wentz.
• Week 1 no-shows
• What stars are saying about suspensions
• Johnson ditches vegan diet
• Packers GM here to win even without Mack
• Smith, Davis look to reconnect
The Jets followed a similar path to Darnold. Their draft-day giddiness hasn't faded, but don't expect a Year 1 miracle.
The offensive line hasn't had its top pass protector, left tackle Kelvin Beachum, for the entire preseason. He's expected to play Week 1 against the Detroit Lions, but it'll take a few weeks before he's in top shape.
There's also the schedule — three games in 11 days to start the season, including two on the road. That's a mental and physical strain for any quarterback, let alone a 21-year-old rookie.
A wise leader such as Josh McCown (or Bridgewater) would've helped the team navigate the brutal schedule and inevitable pass-protection problems, but Todd Bowles decided to start the clock on Darnold. The Jets' coach has no track record with quarterback decisions — this was the first time in four years he had more than one viable option — but he evidently believes Darnold is a wise-beyond-his-years rookie who can handle the grind.
Let me say this about Darnold: Of all the rookies who have passed through this quarterback-deprived franchise, Darnold has more upside than any I've covered –and I go all the way back to strong-armed tease Browning Nagle in 1992. Ah, but the preseason can be deceiving. He played only two-plus quarters against starting defenses, neither of which created a game plan designed to stop him. That's about to change; he's now a marked man.
Let's also remember Darnold is stepping into a huddle with no Pro Bowl players, which means more pressure on the young man's shoulders. This isn't Mark Sanchez walking into a playoff-ready team in 2009; this will be hard quarterbacking.
Remember that when you question why Darnold hasn't matched Romo's ridiculous hyperbole.


Source : ESPN