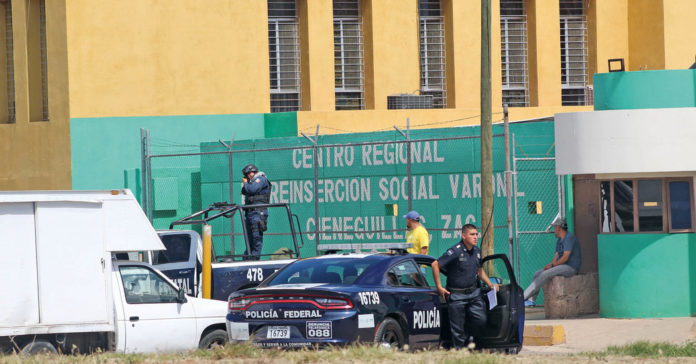 A fight at a prison in northern Mexico has left at least 16 inmates dead and five wounded, the local authorities said, in one of the worst outbreaks of violence in the country's troubled penal system for years.
The violence broke out Tuesday afternoon at the Cieneguillas men's penitentiary in the state of Zacatecas, said the state's public safety secretary, Ismael Camberos Hernández. He said that prison officials were alerted by alarms and the sounds of gunshots and that they grappled for nearly three hours to bring the situation under control.
Four guns were discovered in the prison after the riot, Mr. Hernández said. He said they had most likely reached inmates on Tuesday, when relatives could visit for the last day of the year. Prison personnel also confiscated cellphones and knives during an inspection of inmates' cells on Sunday, Mr. Hernández added.
The authorities did not say how the fight started, but several Mexican news outlets reported that inmates from rival cartels had turned a dispute over a friendly soccer game into a deadly fight.
The brawl on Tuesday was the latest episode of spiraling violence in Mexican prisons, many of which are overcrowded and poorly guarded. In 2016, nearly 50 inmates died in a blood bath that involved dozens of hammers and makeshift blades. In October, six inmates died in a clash between rival groups at a prison in the central state of Morelos.
Mexico's president, Andrés Manuel López Obrador, has come under heightened pressure in recent months to respond to relentless violence in the country, which he has promised to tackle at its roots. He was elected in 2018 on the promise of fighting poverty and inequalities with "abrazos no balazos" — hugs, not bullets — and he has also created a new armed force, the National Guard.


Source : Nytimes