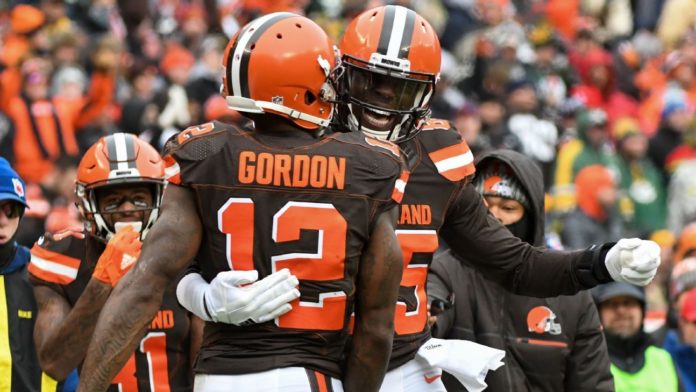 How many wins will the Browns have? Which team is expected to have the best record?
NFL Nation reporters predict the over/under on win totals for all 32 NFL teams, as projected by ESPN's Football Power Index, a predictive system that weighs offensive, defensive and special-teams efficiency.
Note: NFL Nation reporters predicted every team's regular-season record in April.
---
Projected wins: 10.5
Mike Reiss' take: The last time the Patriots didn't win 11 games was the 2009 season, so recent history is on their side. I predicted an 11-5 season in April, factoring in some early-season growing pains that reflect how September, in some respects, has become an extension of the preseason as Bill Belichick balances the short- and long-term viewpoints in putting together what he considers the best team to compete for a Super Bowl title. Prediction: Over 10.5 wins.

Projected wins: 10
Jeremy Fowler's take: The Steelers have won fewer than 11 games once in the past four seasons, when Ben Roethlisberger missed four games with a knee injury in 2015. This team is more established and talented than that squad. The Steelers have a reasonable schedule and should take advantage of a weak AFC North that featured 31 total wins by Baltimore, Cincinnati and Cleveland since 2016. The Steelers know they underachieved late last season and plan to atone for that with a top-two playoff seed. Prediction: Over 10 wins.
Projected wins: 9.9
Tim McManus' take: The defending champs have a pretty challenging schedule on paper — a slate that includes matchups against the Saints, Vikings, Falcons and Rams — and will have to dig deep to reset after a long, franchise-altering 2017 season. But Carson Wentz is eager to make the push back up the mountain post-injury, and it's hard to imagine a team this talented not reaching double-digit wins. Prediction: Over 9.9 wins.
Projected wins: 9.5
Rob Demovsky's take: Since 2009, the Packers have never won fewer than 10 games when Aaron Rodgers has been healthy for the majority of the season. They have a 15-win season, a 12-win season and two 11-win seasons in that stretch. The last time Rodgers broke his collarbone (2013), he came back to win league MVP and lead the Packers to a 12-4 record. It wouldn't be a surprise if he does that again. Prediction: Over 9.5 wins — well over if Rodgers stays healthy for an entire season.
Projected wins: 9.4
Courtney Cronin's take: The Vikings' runner-up finish in the NFC was no fluke. Minnesota has elite playmakers on offense and is backed by the league's No. 1 defense. With Kirk Cousins taking the reins in hopes of leading this team past where it left off last season, it's not unreasonable to expect 10 or 11 wins at a minimum in 2018. It certainly won't be easy with a schedule that features road games against the Rams, Eagles, Patriots and Seahawks. The NFC North is also no cakewalk. Still, the Vikings are one of the league's most complete teams and are in the right position for another deep postseason run. Prediction: Over 9.4 wins.
Projected wins: 9.2
Lindsey Thiry's take: The Rams finished 11-5 last season, which included eight away wins and a brutal road trip at Jacksonville, in London (vs. the Cardinals) and at the Giants. This season, the Rams will stay closer to home, not making a trip to the east coast, plus they've bulked up the roster. They return 10 of 11 starters on offense, including reigning NFL Offensive Player of the Year Todd Gurley II. On defense, they've added All-Pro cornerbacks Marcus Peters and Aqib Talib and All-Pro defensive lineman Ndamukong to play alongside reigning NFL Defensive Player of the Year Aaron Donald. While depth at some positions could be a concern — namely on the offensive line — a healthy team has the potential to win at least 10 games. Prediction: Over 9.2 wins.
Projected wins: 9.2
Mike Triplett's take: I predicted the Saints to match their 11-5 record from last season. Many view them as top Super Bowl contenders because they've surrounded Drew Brees with so much young talent and are as balanced as they've ever been when it comes to the passing game, run game and defense. The problem is the NFC is so loaded with bona fide contenders that the teams can't all go over. Prediction: Over 9.2 wins.

Projected wins: 9
Vaughn McClure's take: The Falcons made a significant upgrade on offense with the addition of playmaking wide receiver Calvin Ridley, the first-round pick from Alabama. I had the Falcons winning nine games before Ridley was drafted. Adding him and the expected offensive improvement in Year 2 under offensive coordinator Steve Sarkisian — plus the continued progress of Marquand Manuel's young defense — should be enough for another win or two above FPI's projection. Prediction: Over 9 wins.
Projected wins: 8.8
David Newton's take: The Panthers have had double-digit wins in three of the past five years, including an 11-5 record last season. They have upgraded the offense significantly since 2017, particularly at wide receiver with the additions of Torrey Smith and first-round pick D.J. Moore. New offensive coordinator Norv Turner should help make Cam Newton more efficient. There's no reason to think the defense, with one of the best front sevens in the league, won't again be among the top 10. The NFC South will be strong again with New Orleans and Atlanta, but nine-to-11 wins for Carolina is more likely than not. Prediction: Over 8.8 wins.
Projected wins: 8.7
Eric D. Williams' take: The Chargers finished 9-7 last season and appear to have patched obvious holes in the roster, including signing a consistent kicker in Caleb Sturgis. According to ESPN Stats & Information, the Chargers have the ninth-easiest schedule to start the season, based on opponents' 2017 win percentages. The Chargers have the best quarterback in the AFC West in Philip Rivers, along with a defense that allowed 17.3 points per contest last season, third-best in the NFL. If the Bolts can stay mostly healthy for a second straight season, they should contend for a division title. Prediction: Over 8.7 wins.

Projected wins: 8.7
Nick Wagoner's take: The 49ers finished last season on a five-game win streak after quarterback Jimmy Garoppolo took over. Although those games didn't mean anything in the playoff picture, the 49ers beat Tennessee and Jacksonville, teams that were still jockeying for postseason position. This year's Niners will have Garoppolo for a full season (after an offseason spent studying the offense) and spent big bucks and draft capital to bolster his supporting cast. Although there are important questions to answer on both sides of the ball, the 49ers should again benefit from playing a last-place schedule. Something in the eight-to-10-win range is probably about right, but barring an injury to Garoppolo, the Niners should be able to jump over the .500 mark … even if it doesn't end with a playoff berth. Prediction: Over 8.7 wins.
Projected wins: 8.6
Adam Teicher's take: The Chiefs have won at least nine games in each of Andy Reid's five seasons. It's a season of change in Kansas City, but it's not a rebuilding year. The Chiefs have too many talented players, at least on offense, and are too well-coached to slip to .500 or below. Prediction: Over 8.6 wins.

Projected wins: 8.5
Todd Archer's take: The Cowboys finished 8-8 in each of Jason Garrett's first three seasons as head coach from 2011-13, so 8.5 wins falls in line with history. The Cowboys play against the NFC South, which had three playoff teams a year ago, and the AFC South, which had two playoff teams a year ago and has Andrew Luck and DeShaun Watson, who are returning from injuries. In 2014, the Cowboys won 12 games. In 2016, they won 13 with a rookie quarterback. In 2018 — with Ezekiel Elliott no longer burdened by suspension talk, a strong offensive line and a defense that has been better than many believe — they can get to 10 wins and be in the playoff conversation. Prediction: Over 8.5 wins.
Projected wins: 8.5
Mike DiRocco's take: The Jaguars have a tougher schedule in 2018, and it appears that the division is going to be pretty darn good (if Andrew Luck is healthy), but the defense returns 12 of the top 14 players from a unit that finished second in the NFL in 2017. That includes six Pro Bowlers, two first-team All-Pros and one of the best cornerback tandems in the league. The Jaguars added All-Pro guard Andrew Norwell to a rushing attack that led the NFL last season. If Leonard Fournette stays healthy and Blake Bortles takes care of the ball the way he did last season, the Jaguars should win 10 games and repeat as division champs. Prediction: Over 8.5 wins.

Projected wins: 8.4
Jamison Hensley's take: The Ravens have been the ultimate middle-of-the-pack team, going 40-40 since they won the Super Bowl in 2012. But Baltimore should be able to reach nine-to-10 wins this season — the futures of coach John Harbaugh and quarterback Joe Flacco depend on it. If Baltimore fails to make the playoffs for a fourth straight year, it could signal the end of the Harbaugh-Flacco era. The key for the Ravens is to overcome a challenging early schedule in which they play four of their first six games on the road. After its bye, Baltimore plays only two of last year's postseason teams in the final seven weeks. Prediction: Over 8.4 wins.
Projected wins: 8.4
Sarah Barshop's take: The Texans have the NFL's easiest strength of schedule, and if Deshaun Watson can stay healthy, the Houston offense, led by receiver DeAndre Hopkins, could be one of the best in the league. The AFC South is improved, but the Texans will at least be one of the teams competing for a wild-card spot. Even though they're coming off a four-win season, they should be a much better team with serious playoff potential. Prediction: Over 8.4 wins.
Projected wins: 8.2
Cameron Wolfe's take: The Titans, who finished 9-7 in each of the past two seasons, fired Mike Mularkey because being a middle-of-the-pack team wasn't good enough. Tennessee should be a much-improved defensive team after adding Malcolm Butler, Rashaan Evans and Harold Landry as potential Day 1 impact players. Marcus Mariota is a strong bounce-back candidate after spending this offseason fixing his footwork and learning a more flexible, comfortable scheme created by new offensive coordinator Matt LaFleur. The AFC South will be more difficult with a healthy Deshaun Watson and Andrew Luck, but the Titans have an otherwise favorable schedule. Another 9-7 season and a playoff berth seem to be the minimum expectations for this team. Prediction: Over 8.2 wins.
Projected wins: 7.9
Paul Gutierrez's take: I had the Raiders going 9-7 after the schedule was released, as Oakland is tied for the third-easiest strength of schedule. And that was before the draft and seeing Jon Gruden's retooled squad on the field in OTAs. The roster has been rebuilt in his image, so everyone is going in the same direction now, as opposed to in last year's 6-10 flameout. The defense should be better, and the offense has firepower. As tight end Jared Cook said of Gruden, "You can tell the difference in a coach that knows what he's talking about and a coach that does not. He knows what he's talking about." Prediction: Over 7.9 wins.
Projected wins: 7.9
Brady Henderson's take: FPI's projection is in line with my prediction of an 8-8 season. That took into account all the key pieces that departed this offseason, including Richard Sherman and Jimmy Graham; the renewed competitiveness in the NFC West, in which the Rams are the clear favorites and the 49ers are on the rise; and the fact that Seattle's schedule is tied for fifth-hardest in terms of opponents' 2017 win percentages. Although some are expecting the Seahawks to bottom out after such a significant talent drain, that isn't going to happen on a team with an MVP-caliber quarterback in Russell Wilson and other stars such as Earl Thomas and Bobby Wagner on defense, not to mention an excellent coach in Pete Carroll. Prediction: Over 7.9 wins. Barely.
Projected wins: 7.7
Michael Rothstein's take: The projection is right around where I have the Lions pegged this season: 8-8 or 9-7. Detroit is in a tough division with a difficult schedule, but the Lions are also a talented team that should have a pretty potent offense if the improvements made to the run game come through. Questions about the defense — particularly about the front seven — and the run game make it hard to predict the Lions any better than around .500. This team might be better than the one Detroit fielded last season, but it could end up with a similar record. Prediction: Over 7.7 wins. But not by much.

Projected wins: 6.9
Mike Rodak's take: This seems like a fair projection for the Bills because a strong case could be made that they are a six- or seven-win team. The glaring question for Buffalo is at quarterback, where AJ McCarron and Nathan Peterman split first-team reps to start organized team activities but could eventually cede the role to seventh overall pick Josh Allen. In any case, second-year coach Sean McDermott has made it clear to his players that their success last season — snapping a 17-year postseason drought — will have little bearing on what they do this season. The Bills exceeded expectations last season enough for me to give them the benefit of the doubt, but they could still struggle to match their 9-7 mark from 2017. Prediction: Over 6.9 wins.
Projected wins: 6.9
Katherine Terrell's take: The Bengals have had two down years, but they've won six or fewer games only three times in 15 seasons under Marvin Lewis. The Bengals should be able to win seven or eight games minimum this season if they can improve their offense from its last-place finish in 2017. They'll need solid seasons from A.J. Green, Tyler Eifert and the new-look offensive line to do so. Prediction: Over 6.9 wins. But not by much.

Projected wins: 6.9
Jeff Legwold's take: Nobody is saying the Broncos solved all of their worries this offseason, but they should improve more than two wins if the Case Keenum-led offense can avoid the turnover troubles of 2017, when the Broncos finished 5-11 with an eight-game losing streak in the mix. Only the winless Browns turned the ball over more than the Broncos did last season, so if Keenum achieves anywhere close to his performance last season in Minnesota, the offense should be a quality addition to a defense that added Bradley Chubb and has Von Miller in his prime. Prediction: Over 6.9 wins.
Projected wins: 6.8
Jeff Dickerson's take: The Bears look like a seven-win outfit to me. Chicago's defense is legitimate, but the offense is a work-in-progress. The Bears spent a lot of time and money this offseason to upgrade the offense, but it usually takes time for a group to mesh. Plus, the NFC North is tough, especially with the arrival of Kirk Cousins in Minnesota. The Bears will be better, but they're probably not playoff contenders … yet. Prediction: Over 6.8 wins. But barely.

Projected wins: 6.8
Mike Wells' take: The Colts are rebuilding, but Andrew Luck proved over and over again in this first three seasons that he's capable of covering the roster's flaws. That could be easier for Luck to do this season — if he's healthy mentally and physically — because he could be playing behind the best offensive line of his seven-year NFL career in what will be an even better AFC South. The Colts can eclipse this projection, but only if Luck (shoulder) is healthy and plays in all 16 games and new coach Frank Reich is able to quickly implement his up-tempo offense, which worked well in Philadelphia's Super Bowl run last season. Prediction: Over 6.8 wins. But not by much.
Projected wins: 6.7
John Keim's take: The Redskins have topped that total in three straight seasons, and there's every reason to believe they'll improve on 2017's record of 7-9. By how much? That remains to be seen. But they should have an improved running attack with Derrius Guice, and they finally have what should be a solid defensive line with first-round pick Da'Ron Payne paired with last year's first-round pick, Jonathan Allen, among others. Regardless of whether Alex Smith matches Cousins' yardage total, he'll likely cut down on turnovers: Cousins threw 12 more interceptions than Smith the past two seasons combined. The schedule is tough, but if the Redskins avoid the health issues of 2017, they should top their 2017 win total. Prediction: Over 6.7 wins.

Projected wins: 6.5
Jordan Raanan's take: Only four teams have lower FPI win projections than the Giants, and they all have significantly less talent. The Giants should be improved offensively and defensively. The only thing working against them is depth and their schedule this season. They should still be able to get somewhere from seven to nine wins. Prediction: Over 6.5 wins.
Projected wins: 6.5
Jenna Laine's take: I predicted that the Bucs could go 8-8, and I thought that was being generous, considering they went 5-11 last season and play in an NFC South division that had three 10-plus-win teams in 2017. Jameis Winston showed at the end of the season what he could do when healthy, but if the Bucs are going to have a winning season or get to .500, the defense, which got a complete overhaul up front this offseason, has to step up. They can't win many games when they give up more yards than any other team in the league (378.1). Prediction: Over. But only slightly.
Projected wins: 6.3
Mike Rodak's take: I picked the Dolphins to win eight games after the schedule was released in April, which might have been optimistic given the number of questions that persist for the Dolphins after the draft. Will Ryan Tannehill return to form after missing last season with an ACL injury? Will 35-year-old Frank Gore and 32-year-old Danny Amendola help carry an offense that will lose Jarvis Landry's production? Can Cameron Wake remain a pass-rushing force at 36? There is a wide range of outcomes for the 2018 Dolphins, including bottoming out as a four- or five-win team. Prediction: Under 6.3 wins.

Projected wins: 6.1
Josh Weinfuss' take: I predicted six wins in April. The biggest question surrounding the Cardinals this season will be whether Sam Bradford can stay healthy. If he can, Arizona could be looking at 10 wins. But history doesn't suggest that Bradford will make it through the season, which means the offense will be handed to first-round pick Josh Rosen, who will face a significant learning curve. Arizona also has questions at receiver, tight end and cornerback that don't bolster their win projections. Prediction: Under 6.1 wins. But barely.

Projected wins: 6.1
Rich Cimini's take: The Jets' roster remains under construction, but they have enough talent to win more than six games. They play in a weak division (except for the Patriots), and they have one of the easiest schedules in the league. They won five games last season in Year 1 of a major rebuild, so it would be a major disappointment if they don't improve by at least two wins. The wild card is rookie quarterback Sam Darnold. If he takes over, his growing pains will hurt the team in the short term. Prediction: Over 6.1 wins.
Projected wins: 5.7
Pat McManamon's take: This is a tough call because FPI's projection is right where I'd expect the Browns to be. Given their schedule and the normal grind a team goes through with a lot of new parts, the Browns should be in the five-to-six-win range. I'm going to say five based on the difficult first two games and the fact that the Browns are tied for the fifth-toughest schedule in the league. Prediction: Under 5.7 wins.


Source : ESPN