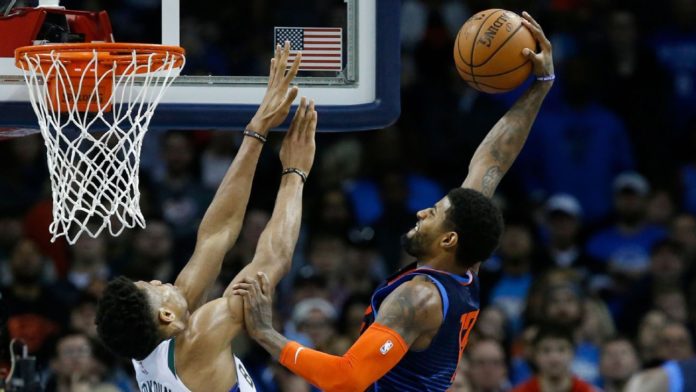 OKLAHOMA CITY — Paul George turned the corner and a runway to the rim had opened. There was a little more than a minute left in Sunday's contest, the Milwaukee Bucks had closed the margin to four and the Oklahoma City Thunder were in desperate need of a bucket.
But what appeared to be an open lane soon had a near 7-foot Greek obstacle waiting. Giannis Antetokounmpo took a couple of giant steps over and prepared for a midair collision.
"I saw him pull over late," George said. "He's a guy that's going to make a play at the rim. Any floater, anything like that, he's going to try to block. At that point, you've got to go aggressive at the rim."
George isn't the same kind of posterizer he once was, but with options limited against a player like Antetokounmpo, he went for the path of most resistance, packing it over the infinite arms of Antetokounmpo to restore a six-point lead.
"It's P," Thunder guard Terrance Ferguson said. "He's always pulling something out. He had his NASA shoes on. So, he definitely had to take off one time, and it's exactly what he did. Put that in a commercial right there."
The Bucks answered again, though. Eric Bledsoe snapped in a wing 3-pointer to cut the lead to three with a minute left, and as the next Thunder possession dragged into a sloppy isolation, options were limited again. George held the ball on the wing with Malcolm Brogdon trying to hug next to him. George turned his back into a half post-up, pivoted and pulled from deep. All net, and the official dagger to a 118-112 win for the Thunder.
Paul George stuffs a one-handed dunk on Giannis Antetokounmpo in the fourth quarter.
In a showdown of MVP candidates, George outplayed Antetokounmpo, finishing with 36 points on 12-of-21 shooting — including 8-of-12 from 3 — plus 13 rebounds, three assists and three steals. But it was another dominant fourth quarter from George — something he is making a habit of — that stood out (12 points on 4-of-6 shooting).
George has erupted this season, his self-proclaimed best ever, flashing a rare two-way ability only possessed by a handful of players. He's the primary disrupter of the league's most rowdy and rangy defense, one that was on full display in swarming the Bucks from start to finish, particularly Antetokounmpo.
Antetokounmpo finished with 27 points on 8-of-22 shooting to go with 18 rebounds and four assists, but the Thunder frustrated him with multiple bodies and swiping, handsy help defense. Antetokounmpo had his shot blocked seven times, the most ever in a single game in his career — and the most that any one player has had his shot blocked this season in a game.
Antetokounmpo shot 5-of-17 (29.4 percent) in the paint, his worst such field goal percentage in a game this season and second worst in a game in his career (minimum 10 field goal attempts).
"… You know where the ball is going to go. It's going to Paul George."

Giannis Antetokounmpo
The Thunder's defense has been their backbone, stemming a mediocre offense that has been mostly carried by George's brilliance. Russell Westbrook notched another triple-double — his 16th of the season — but struggled shooting, again, hitting just 5-of-20 from the floor. George has become the focal point for OKC, and it's really no secret anymore.
"He has been playing amazing, and down the stretch, you know where the ball is going to go," Antetokounmpo said. "It's going to Paul George."
George is a bit of an offensive oddity, preferring to play almost entirely in the natural flow of the game rather than ever call for the ball or ask for a play ran for him. He took only two shots in the third quarter after dropping 21 points on 13 attempts in the first half, but he didn't press to continue cooking. It's all about rhythm, and George is not one to force it.
"It speaks to his greatness as a player," Thunder coach Billy Donovan said. "The fact he's got the patience to understand the length and time of the game; he just plays. And even though he only scored three points or didn't get very many shots [in the third quarter] — he just plays. He knows another quarter is coming and he defends and he just gets lost in the game."
Every MVP campaign has its moments, and Sunday's could be one for George's sizzle reel. Antetokounmpo had one himself against a fellow candidate a couple of weeks ago, tipping in a late rebound to seal a road win against James Harden and the Houston Rockets. George's poster over Antetokounmpo and the dagger 3 to follow it is a sequence that sticks in minds, and George is stacking those moments lately. He rescued the Thunder a little more than a week ago at the Philadelphia 76ers with a four-point play to snap a losing streak and kick off the Thunder's current five-game winning streak.
After the dagger 3 on Sunday, George jumped a pick-and-roll on the Bucks' next possession to force a steal, a final twist of the knife. It was the punctuation on a complete sequence from George and a showcase of what separates him from other stars in the league. He always has been regarded as one of the best defensive players in the league, but he has elevated to now be considered one of the best players, period.
"I don't consider myself a good offensive player. I don't consider myself a good defensive player," he said. "I just consider myself a good basketball player."
There are still some 30 games to go and plenty of time for more moments and for bullet points to be added to MVP résumés. Harden's historic scoring run is unimaginable; Antetokounmpo's evolution and ruthless efficiency is a unreal; and George's two-sided dominance is uncommon. It's about preferences and, as always, personal definitions of value. George is a defense-first player who happens to be just as good offensively.
"Honestly, I don't even know how to approach a game like that," George said when asked if he ever wishes he didn't have to guard the opposing primary scorer every game. "They go hand and hand for me. My defense plays into my offense, and vice versa. I know when I'm locked into my offense when my defense is solid. I know offensively I'm in a good rhythm defensively when the flow is going good for me. It's different for different guys. Some guys don't have to play defense, some guys can hide within a defense."
George stopped himself with a slight grin.
"That's another story."


Source : ESPN