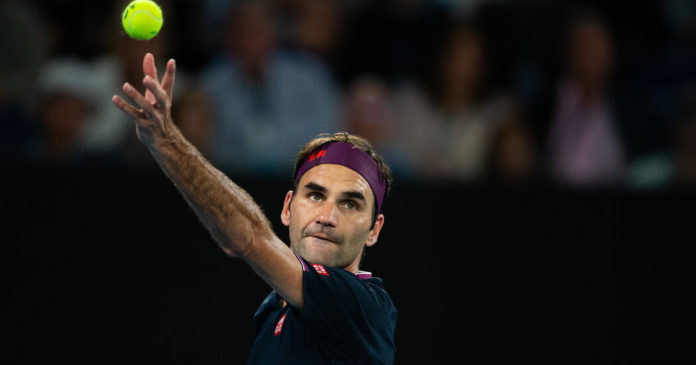 Roger Federer is the most famous living citizen of Switzerland.
"It's not even close," Nicolas Bideau, a Swiss official in charge of promoting the country's image abroad, once told me.
But though the Swiss have long adopted neutrality, Federer has played at home just about all over the world.
Pity the Frenchman who faced Federer at Roland Garros, where his command of French and forehand made him a perennial crowd favorite.
Pity Juan Martín del Potro, a tower of power from Argentina, who faced Federer in a 2012 exhibition in the suburbs of Buenos Aires and unexpectedly felt like the road team.
Pity Novak Djokovic, the Serbian megastar, who faced Federer in the 2015 U.S. Open final and had to deal with roars of approval for his double faults by forcing himself to imagine that the crowd was chanting his name instead of Federer's.
So it went so often during Federer's long run near the top of his game, and when I researched and wrote a biography of Federer after 20 years of covering him for The New York Times, one of my objectives was to fully comprehend what lay behind that deep connection with so many different cultures.
I finished with four big reasons:
First and most evidently, there was the beauty of his game, something closer to dance than tennis with his feathery footwork, flowing stroke production and something even closer to improvisational dance in that Federer, happily for nearly all involved, often strayed from the choreography: leaping or lunging to intercept a ball and create some fresh move with a flick of the wrist and barely a sound.
His sleight of right hand sometimes left opponents dumbfounded: see Andy Roddick's expression in 2002 after being Federered in Federer's real home city of Basel. Above all, Federer's game was an immersive viewing experience, one that could transform even a rout into a happening because of the aesthetic quality of the drubbing. The score sometimes seemed beside the point. You did not need to be a tennis fan to appreciate Federer's art, but his art could certainly make you a tennis fan, which is part of his legacy as he retires next week from competitive tennis.
Second, Federer endured while excelling, remaining highly visible and relevant without any dramatic dip in results or appeal. For 20 years, he was a reliable on-screen presence: on television when he first emerged in the late 1990s and on all manner of devices by the time he played his last major tournament at Wimbledon in 2021. His record of 20 Grand Slam singles titles has been passed by Rafael Nadal and Djokovic, but his record of 23 consecutive Grand Slam singles semifinals may never be beaten. And then there is the pièce de résistance of his statistics: Federer never called a halt to any of his 1,526 career singles matches or 223 doubles matches because of injury or illness. Jimmy Connors, the only man to have played more tour-level matches than Federer, retired from 14 tour-level singles matches. Djokovic has retired from 13; Nadal from nine. Federer's tennis was not just pretty. It was gritty.
Third, he conducted himself, on and off the court, with class. After a shaky start, full of tossed rackets and shrieks of frustration, Federer became something much closer to a Zen master by the early 2000s. That was in part because he realized, as he rose in prominence, that he did not want to project a temperamental image to his public but also because he realized he played better under tight control. That the release provided by bemoaning the injustice of it all was seriously outweighed by the precision and focus acquired by mastering his emotions even if that old fire, as he once told me, still burned intensely behind the modern facade.
Off the court — with the sponsors, the news media, the public and his family of six — he put the emphasis on being in the moment and present (and that does not refer to social media presence). He arrived on Instagram and Twitter relatively late in the game and posted cleverly if infrequently. He always seemed to prefer the face-to-face, undistracted approach, which made him old-school at one stage and then surely ahead of the curve. An interview with Federer, be it over a meal or in the back seat of a courtesy car, was usually closer to a conversation. "The reason Roger is so interesting is because he's so interested," his former coach Paul Annacone once told me.
That rings true. A people person, he was, unlike some of his predecessors such as Stefan Edberg and Pete Sampras, an extrovert who gathered energy from interaction. But Federer also knew his limits: sensing when he was close to saturation and taking a well-timed, usually private break.
The principle, and this is something that people without extraterrestrial tennis skills can learn from, was to find pleasure or at least minimal displeasure in the obligations that went with his job and status: be they post-match interviews in three languages or meet-and-greet events for his myriad sponsors. His world, as Roddick aptly observed, has long appeared to be low-friction, but that is not simply because he can fly private and stay in the most luxurious of resorts and abodes. It is because of attitude and a genuine love of discovery and the road, just as long as he can return to low-friction Switzerland on occasion to regroup.
Finally, and this is perhaps the most intriguing element of the popularity equation, Federer was a serial champion, one of the most prolific in the game's long history, but he was also a big loser.
You can argue quite convincingly that Federer failed to seal the deal in two of his three greatest matches: losing the 2008 Wimbledon final in the gloaming to Nadal; winning the 2017 Australian Open over Nadal to begin Federer's surprising late-career renaissance and then, most poignantly to those who call Federer home, losing to Djokovic in the 2019 Wimbledon final after holding two match points on his own serve at age 37.
True Federer fans (and Djokovic fans) can replay those two missed opportunities in their heads: the slightly off-balance forehand error off a deep return followed by the crosscourt forehand passing shot winner from Djokovic off an unconvincing approach shot.
In about a minute, what would have been the most remarkable triumph of his career had slipped away on his favorite patch of grass, the theater which suited his balletic game best and where he had won a men's record eight Wimbledon singles titles.
For all his talent, sagacious planning and love of the game, he still faltered when it mattered: not often over 20-plus years but certainly enough to humanize him.
Then there were the tears, which came in victory and defeat and came, it seemed, more often early in his career than late. Such public sensitivity from a superstar male athlete once would have been derided as soft, but Federer's timing was right, just as it was right so often on his rhythmic serve and full-cut groundstrokes tight to the baseline and straight off the bounce.
His game was a visual feast, suitable for framing, but the player was flesh-and-blood vulnerable and all the more relatable for it despite all the millions in the Swiss bank.


Source : NYtimes