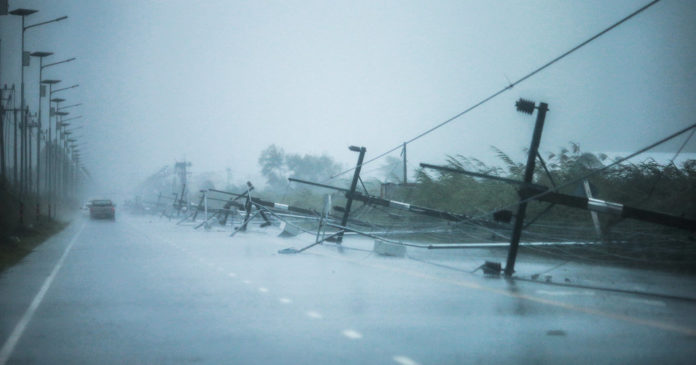 BANGKOK — Rain, winds and surging seawater knocked down trees and flooded roads on Friday, as Tropical Storm Pabuk made landfall in southern Thailand.
One person was reported dead and another missing after a fishing boat with a crew of six capsized in strong winds, but there were no reports of major damage by nightfall. The first tropical storm to make landfall in Thailand in three decades appeared to cause far less destruction than had been feared.
Torrential rain was expected in a dozen provinces in southern Thailand, including Nakhon Si Thammarat and Surat Thani — which includes the popular resort islands of Koh Samui, Koh Tao and Koh Phangan. Airports were closed, and flights and ferry services were canceled for safety reasons.
The Meteorological Department said the storm had maximum sustained winds of 47 miles per hour when it hit land shortly after noon on Friday. Officials said the storm was losing speed as it moved inland, but warned that strong winds, storm surges and flash floods were still a danger. They advised all ships to stay ashore through Saturday.
Joe Kieta, an American visiting the island of Koh Samui, said that the rain had stopped there by Friday evening. "It seems like the worst is past us," he said.
Mr. Kieta said in an email that roads on the island had light debris, and that his hotel had closed its beach area and discouraged guests from going out.
Before the storm, the National Disaster Warning Center urged people to head for higher ground, including in Koh Samui and Koh Phangan. More than 6,100 people were evacuated in four provinces as the storm approached, according to the Department of Disaster Prevention and Mitigation.
Evacuation efforts were particularly intense in Nakhon Si Thammarat Province, south of Bangkok. Officials drove riving trucks through flooded streets with downed power lines urging people to leave.
"You cannot stay here. It's too dangerous," they repeated from loudspeakers.
The Thai Navy said its only aircraft carrier, the HTMS Chakri Naruebet, was on standby and prepared to sail if needed for relief efforts.
There had been fears that the storm would be the worst to hit Thailand since 1989, when Typhoon Gay killed more than 400 people.


Source : Nytimes