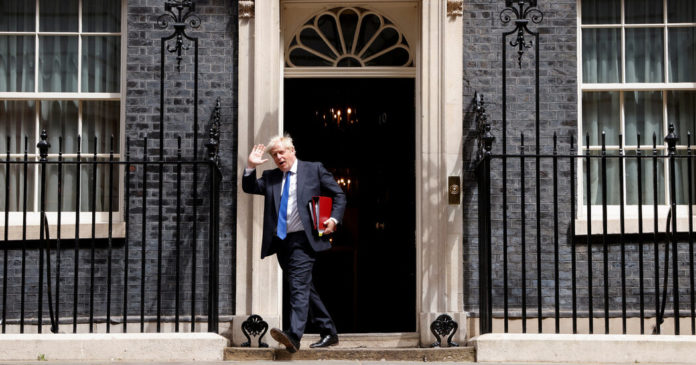 LONDON — Prime Minister Boris Johnson of Britain will resign as Conservative Party leader on Thursday, the BBC reported, after a wholesale rebellion of his cabinet, a wave of government resignations and a devastating loss of party support, prompted by his handling of the party's latest sex-and-bullying scandal.
Mr. Johnson plans to stay on in the role of prime minister until the autumn, the BBC reported, though there was no indication of whether his party's lawmakers, many of whom have turned against him, would go along with that. Downing Street said that he planned to make a statement to the country later on Thursday.
Mr. Johnson's decision capped a dizzying 48 hours in British politics that began on Tuesday evening with the unexpected resignation of two of his highest-ranking ministers, the chancellor of the Exchequer, Rishi Sunak, and the health secretary, Sajid Javid. That was followed by a flurry of resignation announcements from other lawmakers and officials all day Wednesday and on Thursday morning.
The resignation brings an abrupt end to a stormy tenure that was distinguished by a landslide election victory three years ago and a successful drive to pull Britain out of the European Union, but that collapsed under the weight of a relentless series of scandals.
Keir Starmer, the head of the opposition Labour Party, responding to reports, said it was "good news for the country that Boris Johnson has resigned," but added: "It should have happened long ago."
"He was always unfit for office. He has been responsible for lies, scandal and fraud on an industrial scale," Mr. Starmer wrote. "And all those who have been complicit should be utterly ashamed."
As members of Mr. Johnson's party stepped down from the government, one after another had voiced opposition to Mr. Johnson's leadership, denounced him for a lack of integrity in office and called for him to stand down, underscoring his precarious position.
Adding their names to that growing list before 9 a.m. Thursday were Brandon Lewis, the secretary of state for Northern Ireland; Helen Whately, the Exchequer secretary to the Treasury; Damian Hinds, the security minister; and George Freeman, the science minister, among those announcing on Twitter that they were quitting and sharing their letters to the prime minister.
Michelle Donelan, who had just taken on the role of education secretary hours earlier when her predecessor, Nadhim Zahawi, was promoted into a newly vacant cabinet position, also stepped down.
Mr. Zahawi, whom Mr. Johnson appointed as chancellor of the Exchequer to replace Mr. Sunak, then ramped up the pressure on the prime minister, in a letter that called on him to resign.
"Prime minister, you know in your heart what the right thing to do is, and go now," he wrote in the letter posted to his Twitter account.




Source : Nytimes