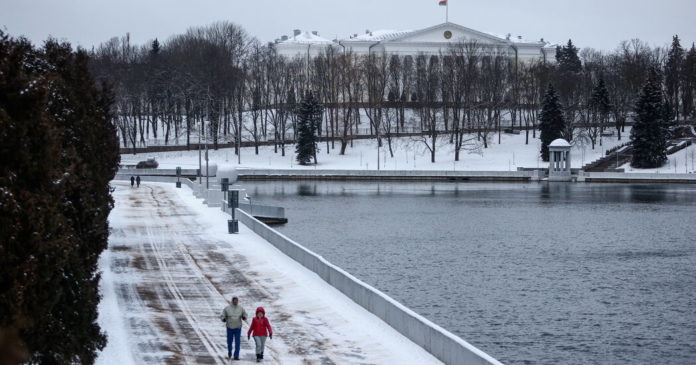 With large-scale Russian military exercises set to begin in Belarus, the United States has ordered the departure of family members of U.S. government employees, citing "an increase in unusual and concerning Russian military activity near the border with Ukraine."
The decision comes just over a week after the State Department pulled the families of American diplomats out of Ukraine in response to the buildup of Russian troops on the border. In a statement published Monday, the State Department also warned U.S. citizens planning travel to Belarus that "the situation is unpredictable."
Although Russia insists that its military exercises pose no threat to Ukraine, which shares a 665-mile border with Belarus that is largely unguarded, the United States has warned that they could be used as a pretext to prepare for a possible attack. Ukraine's capital, Kyiv, is a short drive from Belarus's southern border and is easily within range of the rocket systems Russia has deployed before the exercises.
Russia has deployed some of its most advanced and well-equipped forces to nine bases and airfields around Belarus, the Russian Defense Ministry says. Already, highly trained special forces units and airborne troops, together with powerful antiaircraft systems and hundreds of aircraft, have begun to arrive at bases around the country, Ukrainian and Western officials say. At least two Iskander-M rocket battalions have been sent to Belarus, equipped with rockets that can hit anywhere inside Ukraine, Konrad Muzyka, a Russian military analyst, said on Twitter.
The exercises, named Allied Resolve-2022, are unnerving not only Ukraine, but also NATO countries like Poland and the Baltic nations along Belarus's western border.
On Tuesday, Russia's defense ministry published a video showing a Russian military field camp newly deployed on the border with Poland. The camp is equipped with a hospital, classrooms for soldiers and recreation facilities, an indication that Russian troops, as Western officials fear, could be deployed to the area for longer than just the duration of the exercises, which are scheduled to end on Feb. 20.
In remarks at the United Nations Security Council on Monday, the American ambassador, Linda Thomas-Greenfield, said that as many as 30,000 Russian troops could be deployed for the exercises, adding to what she called the largest mobilization of troops in Europe in decades.




Source : Nytimes