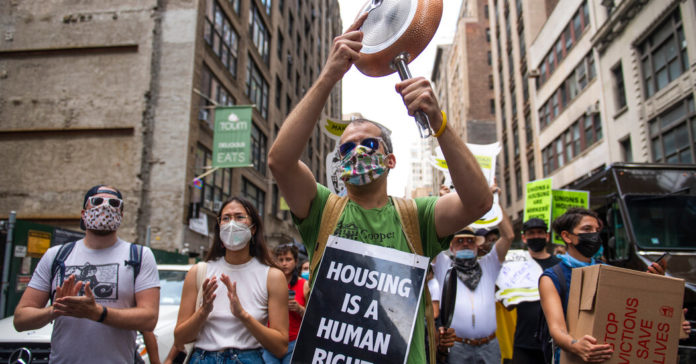 When the first wave of coronavirus spread across the country in the spring of 2020, it ravaged the economy, pushing millions of low-income tenants to the brink of eviction. Over the next year, Congress responded with a series of relief packages that included a $46.5 billion fund for emergency rental assistance.
But the promise of that help has long since given way to confusion and desperation as national eviction protections lapse and the vast majority of that rental assistance sits unspent, precipitating the precise crisis Washington had hoped to avoid.
On Friday, the House Financial Services Committee will hold a hearing to examine the shortcomings of the fund, known as the Emergency Rental Assistance Program, which had only distributed a fraction of its total funding by Aug. 1, according to the Treasury Department.
The Supreme Court's decision to strike down the national moratorium on evictions last month has transformed a vexing administrative problem into an acute human crisis, placing at least 2 million renters in immediate danger of eviction, according to one estimate.
Federal and local officials, housing experts, landlords and tenants cited an array of problems that slowed the flow of aid: bureaucratic missteps at all levels of government, onerous applications, resistance from landlords, the reluctance of local officials to ease eligibility requirements for the poor, difficulty raising awareness that rental aid even existed, and a steep rise in rents that increased the incentive for kicking out low-income tenants.


Source : Nytimes