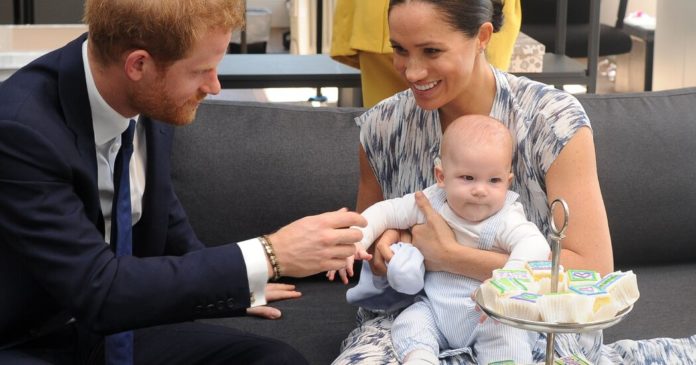 Why is Archie, the young son of Prince Harry and Meghan, not a prince? That emerged as a murky question in the aftermath of the couple's generally revealing interview with Oprah Winfrey.
Meghan said that the royal family had decided before he was born not to grant Archie the title and the designation His Royal Highness, suggesting that it was linked to their concerns about the color of the baby's skin.
Under a royal convention, established by King George V in 1917, Archie was not given the title of prince at his birth, since he was a great-grandson — not a son or grandson — of the reigning monarch, Queen Elizabeth II. Were his grandfather, Prince Charles, to ascend the throne, Archie would automatically assume the title of prince, provided the royal family sticks to the rules.
But Meghan said that during her pregnancy, the royal family discussed changing the rules to deprive Archie of the princely title permanently. "I think even with that convention I'm talking about, while I was pregnant, they said they want to change the convention for Archie," she said.
Around the same time, she said, there were "concerns and conversations about how dark his skin might be when he's born."
At the time of Archie's birth, in May 2019, British newspapers reported that Harry and Meghan had no problems with his not being a prince because they wanted their son to have as normal a childhood as possible. He would be known as "Master Archie Mountbatten-Windsor," the double-barreled surname of Harry's family.
In the interview, however, Meghan disputed this contention. The title itself was not important, but it entitles its holder to security protection, which she said mattered deeply to her and to Harry.
Under the convention, Prince William's eldest son, George, was a prince at birth because, as the firstborn child of the firstborn child of the Prince of Wales, he is a direct successor to the throne. But the queen issued so-called "letters patent" that ensured that William's other two children, Charlotte and Louis, were also a princess and prince at birth — something she did not do for Archie.
Meghan said she had viewed this as discriminatory treatment. She said she had objected to Archie's not being a prince because "it's not their right to take it away," and because of security concerns. She expressed anger at "the idea of our son not being safe, and also the idea of the first member of color in this family not being titled in the same way that other grandchildren would be."


Source : Nytimes