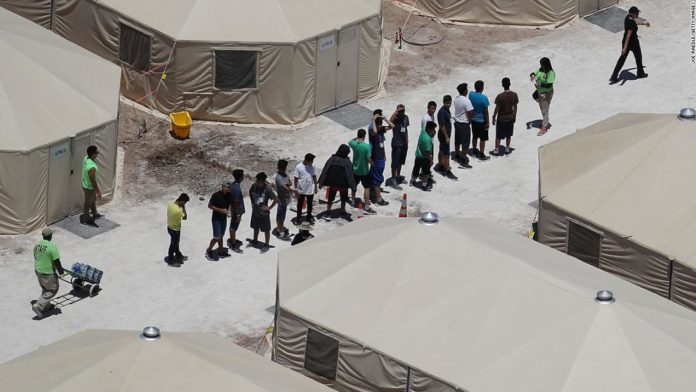 You will
not be provided
schooling, classes of any kind or books. You will spend the next few months with thousands of other children, wondering if and when your childhood will be returned to you.
You have fled unimaginable violence, have crossed entire countries alone, only to find that your right to request asylum requires that you first survive a camp that more closely mirrors a place for interned prisoners than for children.
According to The New York Times, this is the reality for some 13,000 migrant children being held in detention centers across the country. The aggressiveness of the Trump administration's policies toward migrant children has created a new term — "
tender age shelters
" — language which ironically obfuscates the truth about the
billion-dollar business
of holding children in shelters run by some of the same private companies that operate prisons.
As the Trump administration
ramps up
the construction of tent camps, what remains clear is that the big business of detention centers for migrant children will only continue to grow, and that few safeguards are in place to ensure the health and well-being of those children.
What makes this particularly pernicious is that the children at the center of this story are fleeing the gravest situations imaginable. "I dressed as a man," Milexi, 16, told me. She fled Honduras, traveling alone through Guatemala and Mexico and train-hopping her way to the US-Mexico border. Milexi made the difficult decision to flee a situation in which she had been raped since age 7 and had been threatened by numerous gangs.
She is slight, but she is confident and tells me she is very good with maps and directions. When I spoke with Milexi in August in Reynosa, Mexico, she was planning to cross into the United States and request asylum. She had survived so much, and yet I feared she would suffer under the Trump administration's current immigration policies.
If I were allowed to interview the children in Tornillo, I would find out what that means, because we as US citizens need to know how the rights of children are being limited and what the implications are for the human rights record of the administration.
When I think of these children, I think of the many migrant children, like Milexi, who I have interviewed as a journalist. Some have been as young as 8 and have traveled alone from El Salvador, Honduras, Guatemala and Mexico to the United States.
I also think of Alexis, 15, from Puebla, Mexico, who traveled to the United States to be reunited with his father in August. He crossed the border from Reynosa into McAllen, Texas, where he was apprehended by border patrol and deported back to Reynosa. When I interviewed him in August, he was living in a shelter for migrant minors in Reynosa.
Who among us could fault a child for wanting to be reunited with a parent? I am unaware of a human rights framework is which the punishment for such transgressions is sending children to live in a tent in the desert surrounded by a barbed wire fence — or even back across the US-Mexican border. But, if we are going to detain children, we must do it humanely and provide them with full legal support.
In the meantime, though, we should implement a new test: Would President Donald Trump send his grandchildren to live in the Tornillo tent camp? If not, the United States should not be sending migrant children to live in such inhospitable conditions.
So much of the lives of these migrant children is determined by forces beyond their control; their original sin is being born in a place where violence forced them to flee. The irony is that children like Milexi have the wherewithal, intelligence and strength to travel the length of Central America alone, but they may be harmed at the hands of the current US migration system.
If the United States continues to treat children like prisoners, the question is not if but when they will start to die under such conditions.


Source : Nbcnewyork