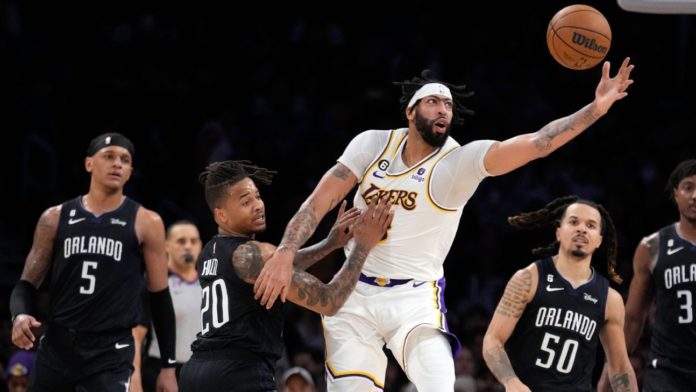 ANTHONY DAVIS SAT in the corner of his bedroom closet, overwhelmed.
It was a couple days after another injury threatened to derail yet another season for him, and the Los Angeles Lakers big man was at his breaking point.
"I'm like, shaking," Davis told ESPN last week, jittering his hand to illustrate his state on that day in December. "I'm just so mad and sad at the same time. … Frustrated."
While making a routine post move to score over Denver Nuggets center Nikola Jokic on Dec. 16, Davis felt a sharp pang, which indicated a complex problem in his right foot: A bone spur had fractured off the navicular bone, which was also suffering from a stress reaction. The crucial weight-bearing bone might have been chipped since his college days at the University of Kentucky, doctors speculated, but the bone bruise exacerbated it.
Davis rated the pain level at an 8 or 9 out of 10. And for someone who's been through as much hard luck on his body as Davis has, there was some experience behind the estimation.
Medical personnel said the injury could sideline him for 8-to-10 weeks.
And so, Davis, with nowhere to hide from the pain in his foot and the anguish caused by the situation, sequestered himself in his home closet.
It wasn't long before his wife, Marlen, and his 6-year-old daughter Nala, found Davis on the floor.
"She whispers to my wife, 'Mommy, what's wrong with Daddy?'" Davis recalled.
"She wants to come hug me but she's scared to. So my wife was like, 'It's OK.'
"I see her and in my head I'm like, 'Don't come touching me.' But she comes over, she gives me a quick hug, leaves, she sits back down and she says, 'Mommy, I'll be right back. I got an idea.'"
Nala scurried off, and Davis' dour demeanor had already started to melt away as he toggled back to dad mode. But, he wanted to see what Nala would do when she returned, so he stayed on the floor with his hand over his face.
"At this point I'm trying to act," Davis said, smiling at the ridiculousness of the scenario.
Nala returned a few minutes later and placed a piece of paper on the clothes pile next to him.
"Daddy, everything's going to be OK," Nala said.
The 2012 No. 1 pick has forged his reputation as a two-way talent, but Davis' risk of injury has also been attached to his pro resumé. Over the past two seasons, Davis spent as much time rehabbing as he did playing — missing 78 out of a possible 154 games. What made this setback especially frustrating was he felt confident enough entering training camp to declare his goal to play in all 82 regular-season games after strengthening his frame all offseason.
Now, after failing to make the playoffs last season and starting off this season 2-10, Davis was looking at missing 30-plus games. Things were trending toward another wasted year for him, the franchise, and his partnership with LeBron James — a 38-year-old all-time great saddled with his own injury woes.
Davis' family let him be, and the anger bubbled up back inside him — until he grabbed the sheet of paper Nala gifted him.
"There's a f—ing rainbow," Davis said with his eyes widened.
"She just drew a rainbow because she likes rainbows, or this girl is really smart to the point where …" Davis paused, and a smile covered his face. "At the end of every storm there's a f—ing rainbow."
---
WHILE THERE WAS a storybook start to Davis' time in L.A., finishing his first season with a championship in the 2020 NBA bubble, there have been as many cloudy days as sunny ones since.
The Lakers' bid at a repeat title was cut short when — after Davis missed 36 of 72 regular-season games and his team fell to the No. 7 seed — L.A. blew a 2-1 first-round lead to the Phoenix Suns. Davis suffered a groin injury that caused him to leave Game 4, miss Game 5 and muster just five minutes in Game 6.
Last season, L.A. failed to make the postseason with Davis missing 36 out of 46 games from Dec. 19 to April 1 because of a knee injury and ankle sprain, and the Lakers finished 33-49.
His body betraying him has not only dimmed Davis' star — he wasn't an All-Star the past two seasons after making it eight straight years — but it has stalled L.A.'s succession plan.
While James won the 2020 Finals MVP, averaging 29.8 points, 11.8 rebounds and 8.5 assists against the Miami Heat, Davis held his own, putting up 25 points, 10.7 rebounds, 3.2 assists and 2.0 blocks.
As recent injuries have taken their toll on James, Davis hasn't fully asserted himself as L.A.'s next franchise player because of his own availability.
This season, as the Lakers chase down a postseason berth with James out since Feb. 26 recovering from a right foot injury, it's on Davis to carry them.
"Obviously, my part in this has been huge," Davis said. "Expectations of my performance and my leadership is high. Not only for myself, but for my team, my coaches, and the organization."
Davis never would have scripted it to have to take the torch with James sidelined, but he accepted the responsibility.
"I think any time you are playing with another star anywhere and that guy goes out, as much as you try and isolate and not put much pressure on yourself, everybody's looking for you to fill those shoes or at least half those shoes and the team fill up the other half," Davis said. "So for me, knowing that he was going to be off work in an extended period of time and everyone's looking at me like, 'OK AD, we need you to carry us until we are able to get whole again now.'"
Prior to James' injury, the duo found themselves under the microscope during the highest-profile Lakers' game of the season as the 20-year veteran was closing in on the NBA's all-time scoring record.
After James eclipsed Kareem Abdul-Jabbar's monumental mark with a fade-away jumper late in the third quarter on Feb. 7 against the Oklahoma City Thunder and floated down the court, arms spread to the air in celebration, Davis could be seen sitting on the bench with a stoic expression as other Lakers players exploded with glee.
Had this DM'ed to me. Can't help but wonder what was up with AD tonight. pic.twitter.com/zTruSPcqSk

— Anthony F. Irwin (@AnthonyIrwinLA) February 8, 2023
What the cameras missed, Davis said, was him trudging to the Crypto.com Arena tunnel by the bench shortly before the record-setting shot to let out a scream of frustration after seeing his team muddle through another uninspiring night against a middling opponent, knowing every game would matter down the stretch. By the time Davis came back to the court, he said he was in a bit of a daze and unaware James' history-making possession was unfolding.
"From the outside looking in, they don't know," Davis said of his perceived bad body language. "It's not for them to know seriously, but me and Bron are fine. You can tell when we had our moments, for sure. But I think it's people just looking for a story."
He was unwavering in describing their bond.
"Me and Bron have one of the best relationships I think in the NBA as far as duos or teammates, regardless," Davis said. "But they don't see that. They don't see the stuff we do off the court and time we hang out with each other. They see on-court stuff."
The relationship has led to James teaching Davis how to come into his own as a leader. Lakers point guard Dennis Schroder, now in his second stint with the franchise, sees a difference in Davis.
"It's better than the first time I was here," Schroder told ESPN. "More vocal. … I mean, I didn't know him the first time I was here. But this year he's doing a great job. I think he learned from LeBron as well. Talking to his teammates, especially on the defensive end. It's a big growth from that first year to this year."
Life is settling down for the 11-year veteran who turned 30 on March 11. His priorities are more clear. James, who has thrived in the spotlight since he was a teenager, is an open book — spending time with Davis both in the locker room and wherever life takes them.
"He's [LeBron] obviously taught me so much about the game, leadership," Davis said. "And I think it comes more into play when he's not playing because I have to. He's not there. … [Usually] I go out there and play and let him do all the talking. But when he's out, we need somebody to have a voice and that's when it's, 'OK, this is my time to use my voice as well.'"
---
DAVIS OBLITERATED THE doctors' predictions and returned on Jan. 25 in 5 1/2 weeks, missing only 20 games.
James' tutelage might have had an influence there, too.
"The way he takes care of his body: constant massages, constant lifting, treatment … all that stuff I picked up on and put into my routine to be able to play as much as I can," Davis said.
He made the best use of his recent absence, engaging with the coaching staff and diving into film — something that wasn't a habit when he first arrived to L.A. "Though I didn't like being hurt, I used it as a time to get better mentally, study the game more," Davis said. "And then, when I get back on the floor, I'm ready to go."
Davis didn't just return, he resumed his high-level play. In 25 games before the foot injury, he averaged 27.4 points and 12.1 rebounds. L.A. was three games under .500. In 22 games since coming back, he has averaged 24.1 points and 12.8 rebounds and L.A. is four games over .500.
On Wednesday against the Suns, Davis posted 20 points, five rebounds and three assists after halftime to help secure the win and keep L.A. in 10th place — the final slot in the Western Conference play-in tournament.
"He's been a f—ing monster," Lakers guard Austin Reaves told ESPN. "I don't think he gets the credit he deserves as a basketball player. I think people see the games missed and knock him for that. Obviously, availability is a big thing, but like, as a basketball player, I feel like there's not many people his height with the skill set that he has."
Right now the Lakers' task with nine games remaining is to make the playoffs.
"I think we've established the team that we want to be," Davis said. "It started from our defense, got back in a fight and still missing LeBron. …
"We've jelled pretty quickly and are able to make some noise and have people notice us again. I just try to come out each game with a mindset of must-win, dominate, and the rest will take care of itself."
In a way, the Lakers' final regular-season stretch and any playoff games will be an extended audition to convince the team's front office to field the same core next season.
Outside of Davis and James, nearly every key player on the Lakers will require a team decision on their contracts this summer, including the recently acquired D'Angelo Russell, Malik Beasley, Jarred Vanderbilt, Rui Hachimura and Mo Bamba.
AD and Austin Reaves lead Lakers past Suns
Anthony Davis scores 27 points while Austin Reaves drops 25 and a career-high 11 assists in the Lakers' win over the Suns.
"If we actually have a full summer, full training camp, go through an entire season, who knows the position we'll be in," Davis said. " … The team we have now, we feel like not only can we make noise this year, and I like our chance against anybody to be honest. You put anybody against us, I like our chances. … Who knows what we could be, what threat we could be next year and then years to come if they work it out and are able to keep this group together."
He already sees parallels with this year's squad to the 2020 title team.
"We have less bigs, for sure, but I think adding D-Lo, Vando, Beas, gives us that identity again," Davis said. "With Beas filling that KCP [Kentavious Caldwell-Pope] role as a shooter. D-Lo is like that [Rajon] Rondo wizardry with the ball and finds guys. … Vando with the AC [Alex Caruso] role that he played. Even bringing Rui with the Kuz [Kyle Kuzma] role. So, obviously that team was special. … But I think this team has potential to be like that team."
---
LAST OFFSEASON, DAVIS was watching a documentary on Netflix when he heard a line that stuck with him: "The giant looks in the mirror and sees nothing."
The 6-foot-10 Davis, who has earned north of $200 million in his career, interpreted it as true giants not thinking they are any better or different than anyone else.
"As I dissected it from my own point of view, it was like no matter how big you get, you should always be able to look yourself in the mirror," Davis said. "So not getting a big head, I should be able to look in the mirror first, check myself. Right?"
He liked the quote so much he got it tattooed on his left thigh in about 150-point font size.
He also added a full back tattoo, inking his basketball journey from a depiction of the hoop in his backyard, to an image of him pre-growth spurt wearing sports goggles in high school, to the NCAA championship trophy from his time at Kentucky, to the 2012 NBA draft board showing him going No. 1 overall, to the Larry O'Brien Trophy he earned with the Lakers.
"And then in the middle it says, 'Starting with a dream,'" Davis said.
AD goes baseline for an emphatic flush
Anthony Davis muscles his way to the rim for a powerful dunk.
He wants to add to the back piece by continuing his dream with the Lakers. He has two more years on his contract — with a player option for the second season — aligning his deal with James'.
"To be a part of the legacy already of winning a championship, you want to win more," Davis said. "We're tied with Boston at 17, it's like, I want to be part of the one that makes it 18 and this franchise No. 1."
Being in the arena to see Pau Gasol get his No. 16 raised to the rafters last month made Davis think about having his No. 3 up there some day, too.
"I love being in L.A. My family loves it. I love playing for the Lakers," Davis said. "When the time is up, honestly, I'm not sure the direction the team wants to go or who knows the conversation we'll have. But when the time comes, we'll sit down, have those conversations and go from there."
Whatever options become available to him, Davis will factor in the comfort of his family, which also includes two sons, Jayce and Kylan, as much if not more than the basketball fit.
"My kids is what I do all this for," Davis said.
This Lakers season, he hopes, is far from over.
But that glimmer of hope might not have come to him so soon and stayed with him so deeply if not for Nala's drawing of a rainbow, placed on a pile of clothes, in the corner of his bedroom closet.
"Right then and there I just snapped out of it, like, 'Damn,'" Davis said. "Went to grab her, hugged her and I was fine after that.
"Like, 'All right, let's get to work.'"




Source : ESPN