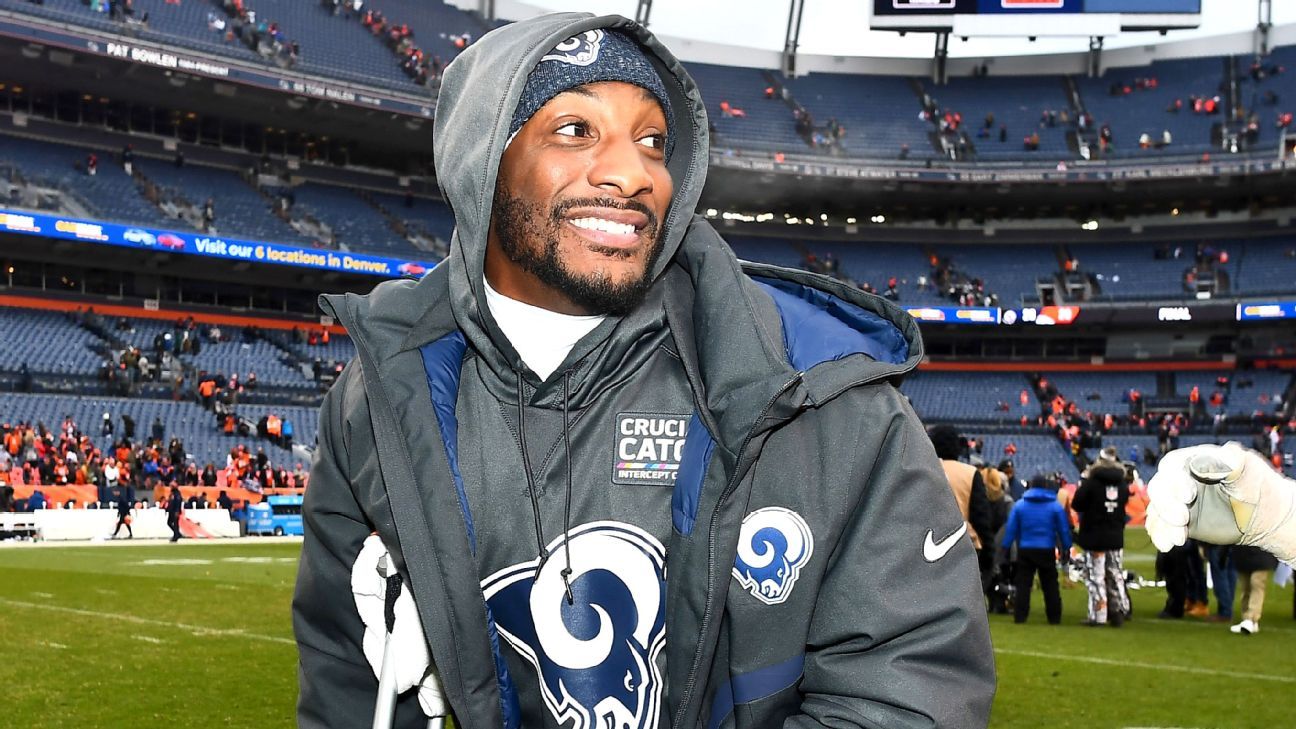 THOUSAND OAKS, Calif. — The debate grew so loud, it could be heard across the Los Angeles Rams' locker room.
Along a row of lockers occupied by the defensive backs, Aqib Talib grew increasingly animated as he argued the day's topic: Which NBA player could cross over to the NFL?
Every player in the secondary chimed in, until the growing crescendo of voices became so loud that the group almost missed a reminder that meetings were about to start. Just like that, the debate was suspended, as players rushed out the door.
That was Week 2.
The Rams' locker room has been decisively quieter since Talib was placed on the injured reserve after a Week 3 victory over the Los Angeles Chargers. Where Talib once filled the locker room with lively debate and laughter, there's now a speaker that occasionally plays music to drown out the silence.
Talib's absence has been felt, on and off the field, even as the Rams have won eight straight games.
"He's just kind of magnetic," coach Sean McVay said about Talib. "People are just drawn to him. Where there's a charisma, there's a swagger, there's a confidence, but then also there's that experience. … You definitely miss a player of his caliber."
"When he's not around everybody is more mellow because he is the biggest personality in the room," safety Lamarcus Joyner said.
The Rams made significant moves over the offseason to upgrade their secondary, trading for All-Pro cornerback Marcus Peters and Talib, a five-time Pro Bowl selection. Talib, an 11-year veteran, made such a fast impression on his teammates that they voted him a team captain, despite this being his first season in L.A.
Peters especially took to Talib, who had previously played in defensive coordinator Wade Phillips' 3-4 scheme in Denver and helped Peters with some of the nuances of the system.
But Peters and Talib only played together 2½ games before Talib suffered an ankle injury that required surgery. Since then, Peters has manned one side of the field, and Troy Hill and Sam Shields the other.
The Rams are undefeated, but Talib, especially against a gauntlet of Super Bowl-winning quarterbacks, is missed.
"This secondary needs him," cornerback Nickell Robey-Coleman said. "Aqib is a one of the centerpieces of our team."
"You're going to miss that presence," said Hill, who has started four games with Talib sidelined. "So that's a big factor and things like that. But he's still out there, helping, seeing what he sees and things like that."
Peters and Hill held their own against Aaron Rodgers and the Green Bay Packers on Sunday. But they also allowed the future Hall of Fame quarterback to complete several big plays.
Peters allowed passes of 48 and 41 yards to receiver Davante Adams. Both completions prolonged drives that eventually led to touchdowns. But Peters also made two critical stops on third down and finished with six tackles.
Hill, coming off a bounce-back performance that included his first career interception against the San Francisco 49ers, allowed receiver Marquez Valdes-Scantling to run by him, as Rodgers completed a 40-yard pass for a touchdown to give the Packers a late lead.
Talib watched from the sideline.
"He tell us, like, 'The ref letting people play, so you can be a little more aggressive,'" Hill said. "He say little things that he see out there and things like that."
This Sunday, the challenge for the Rams' defense will become even greater as they prepare for Drew Brees, the NFL's all-time passing leader, and the New Orleans Saints at the SuperDome.
The Saints have won six straight since dropping their season opener and Sunday's game could serve as a preview of an eventual NFC playoff matchup.
• AD's renaissance has RB legends jealous
• Payton, McVay consider each 'must watch'
• Darnold's future: See past the picks
• Mutual respect binds Belichick, McCarthy
• Seahawks' 'reset' is on schedule
The Saints are ranked second in the NFL in scoring, averaging 33.4 points per game. Brees has passed for 1,990 yards and 14 touchdowns, with an interception, and is averaging 8.19 yards per throw.
"It's Drew Brees, man," said Peters, who has intercepted one pass this season. "Everybody on the defense got to just clamp down that much more."
"Just another great quarterback," Hill said. "Kind of the same as Aaron Rodgers, get the ball out, things like that. … So you've just got to be technique sound and just go out there and just try to execute."
The Saints also feature receiver Michael Thomas, who has caught 58 passes for 669 yards and four touchdowns. Thomas averages 11.5 yards per catch.
"You've got a future Hall of Famer at quarterback and you got a lot of great skill guys around him," Joyner said. "It's just overall it's going to be a dog fight and we just know we're going to have to play for 60 minutes."
Robey-Coleman said that after facing Rodgers, there's a sense of confidence among the secondary that they can play with, if not defeat, any great quarterback, including Brees.
"I don't want it to come off arrogant or anything," Robey-Coleman said, "But this week is going to kind of be a little lighter from a standpoint of quarterbacks. Got two quarterbacks, got two Hall of Fame quarterbacks and we prepared for one, so the preparation for the next one is not as bad as going against that first one."
With that in mind, after facing the Saints, the Rams also must prepare for a Week 10 rematch against Russell Wilson as well as a highly anticipated Week 11 showdown with Patrick Mahomes and the Kansas City Chiefs.
Talib will remain on injured reserve for those matchups. But McVay said the Rams would, barring any unforeseen circumstance, designate Talib as a player to return from the injured reserve.
That could happen as soon as Week 13 against the Detroit Lions. Just in time for the final month of the regular season.
"Certainly we miss him on the field," McVay said. "But we're anticipating getting him back."


Source : ESPN