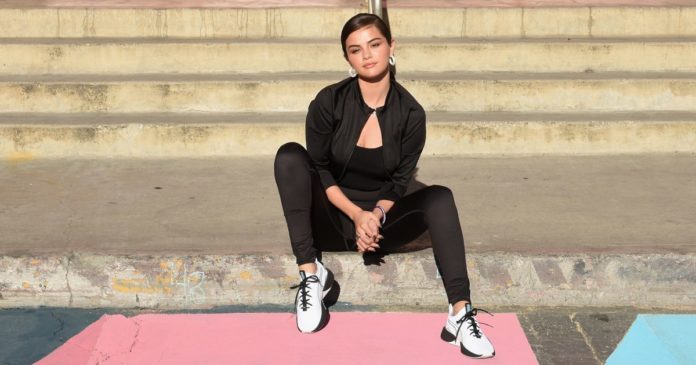 Selena Gomez's trainer, Amy Rosoff Davis, says it's A-OK to split up your workouts in the service of time — and if you've got 10 minutes, then you've got a fitness session.
"People think you have to go do an hour and focus and be on the elliptical," Rosoff Davis tells Us. "But for me, even if I break up my workout during the day and I do 10 minutes three times a day, that for me is enough to feel good and to make my body stay where it is." Benefit No. 2? "It helps keep you mentally sane too."
Rosoff Davis — who has also worked with Kristen Bell and Emma Roberts — suggests trying 10 minutes of vinyasa yoga. "I'll teach my clients a flow, and then we'll repeat it three times," she says. Her favorite is a sun salutation, which consists of moving from downward dog into upward dog, then back to downward dog, into a lunge. At the end of the lunge, you bring your feet together at the top of the mat, then stand straight up and bring your arms together above your head before moving back into an upward dog and starting again on the other side. "You do it to your breath, and it is to warm up your heart rate and to warm up your body, so you do a couple of those and it's like your own mini workout."
For those less yoga-inclined, the L.A.-based trainer recommends simple cardio to get your heart rate up. "I'm a big fan of a jump rope or a jumping jack series," she says, "so I'll put on a good song or two or three — three songs is almost 10 minutes — and you can just dance around or do jumping jacks with arm variations. You can hold your arms up to the side, punching or move them up and down."
As for jump roping, "it's a lot of bang for your buck," she notes. "You burn a lot of calories. It gets your heart rate up. You can do 10 minutes on and off, and you'll get a killer workout."
Even if you have less than 10 minutes, don't fret. The Halo Sport ambassador has an even shorter workout, which she frequently does herself, that requires no equipment and very little space — making it especially great if you're traveling. "I'll just do some downward dog or do something for a minute and feel better," she says, "because those endorphins fuel me from working out and can change how I feel in a given moment."
To put the finishing touch on any mini-workout, the pro suggests doing one final power move: the plank. "It works everything. There are so many good variations you can do — you can lift your legs, you can lift your arms, you can twist your hips, you can hold it still," she says. "It's such a good, versatile move."


Sign up now for the Us Weekly newsletter to get breaking celebrity news, hot pics and more delivered straight to your inbox!



Want stories like these delivered straight to your phone?
Download the


Us Weekly iPhone app now!






Source : USmagazine